The holidays are approaching fast! It's time to start thinking about the perfect gift for your loved ones. There is alot of Star Wars merchandise to choose from. Our holiday gift guide highlights some great gift ideas. Don't wait until it is too late to start looking for that perfect Star Wars gift, let our holiday gift guide lead your way! Please note these prices are subject to change from the time it was published.
Toys and Collectibles
Entertainment Earth Exclusive Astromech Droid Pack
The droids you are looking for are here. Six awesome robots from Star Wars, Return of the Jedi, and The Clone Wars. These figures come packaged in a huge R2-D2 shaped box – it stands over 16-inches tall. Both Jabba's bartender and R2-C2 include a drink dispenser, drink tray harness, and seven glasses for your alien figures. All six robots boast fantastic rolling wheels.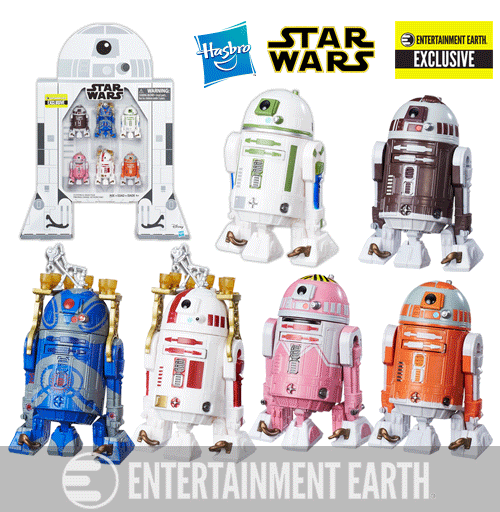 Available at Entertainment Earth for $79.99
Star Wars The Black Series Kylo Ren FX Deluxe Lightsaber
The Star Wars The Force Awakens The Black Series Kylo Ren Force FX Deluxe Lightsaber Replica includes a cool display stand and three light-up elements on the hilt, just like in the movie. Its sturdy, red, polycarbonate blade features realistic power-up and power-down glowing light effects. The huge lightsaber also includes digitally recorded and motion-sensor-controlled authentic sound effects such as power-up, power-down, idle, movement sounds, and clash sounds. It's a wonderful find for clever collectors and great fun for very lucky kids! Measures 43-inches long and 14-inches wide. Requires 3 "AA" batteries, not included.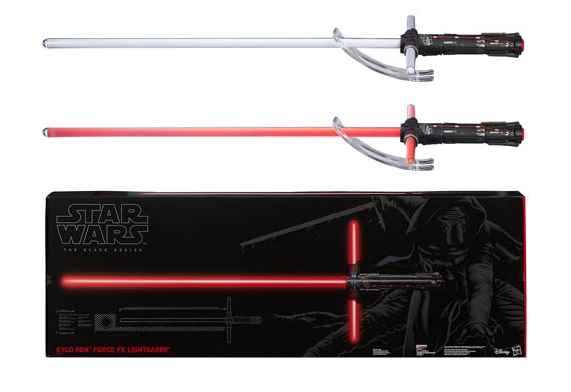 Available at Entertainment Earth for $199.99
Uncle Milton Death Star Galaxy Projector
Experience the Star Wars galaxy and Earth's night sky up close as they come to life in crystal-clear, high resolution on your walls and ceiling. Project over 10,000 stars with brilliant clarity onto your ceiling, view all the planets in the Star Wars Galaxy, and watch your ceiling transform into an incredible scene from the famous Battle of Yavin. High resolution optical projector includes ultra-bright LED light, automatic image rotation, adjustable projection angle, and auto shut-off. Authentically detailed Death Star design makes a fantastic display piece for Star Wars fans of all ages. Includes 3 high resolution image discs, USB cable over 6 feet long, and a handheld constellation and Star Wars galaxy guide.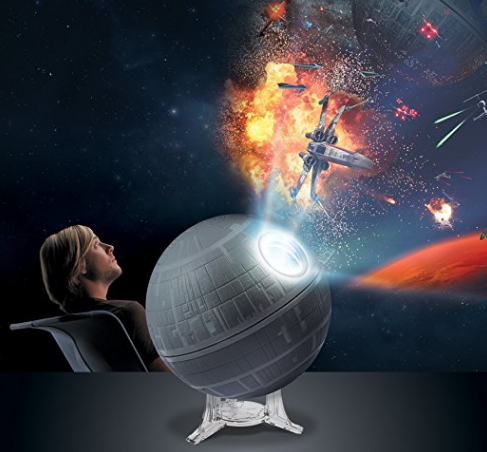 Available at Amazon for $164.95
Star Wars The Black Series Trivial Pursuit
Star Wars themed Trivial Pursuit game. 1,800 questions from the Star Wars saga. Features iconic Star Wars movers. The Black Series edition for 2 to 4 players. Includes gameboard, 300 cards, 1 die, 4 Star Wars wedge holders, 24 wedges, and instructions.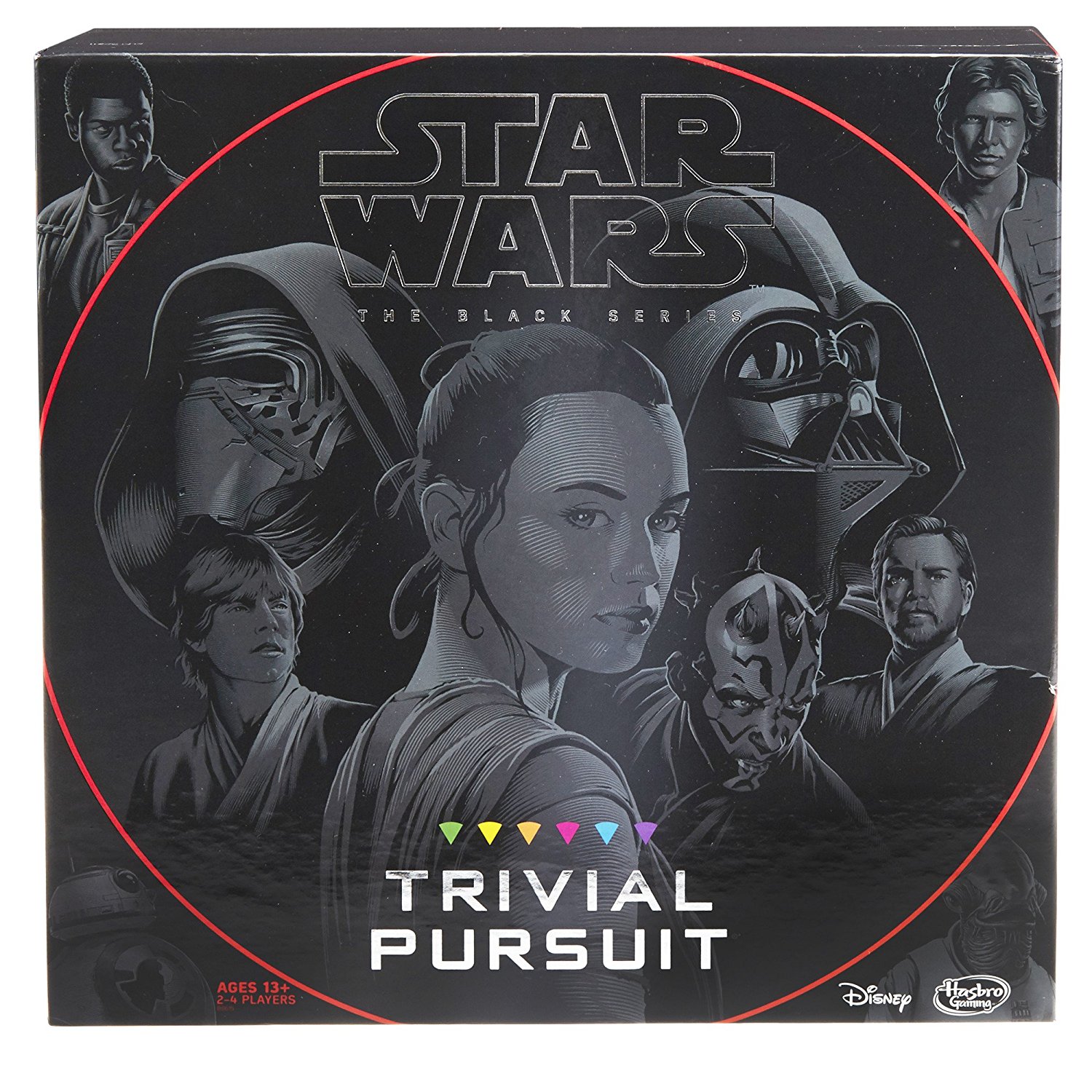 Available at Amazon for $28.49
Star Wars Rogue One Imperial Death Trooper Voice Changer Mask
Electronic Mask transforms your voice to sound like an Imperial Death Trooper. Movie-accurate recreation. Re-create favorite moments from Star Wars: Rogue One.
Available at Amazon for $25.95
Uncle Milton Kylo Ren Lightsaber Room Light
Red light-up Lightsaber room light. Pulsing, Two-Stage Light Effect. Authentic sound effects and Kylo Ren hilt design. Easily Mounts to Wall. Science learning poster included.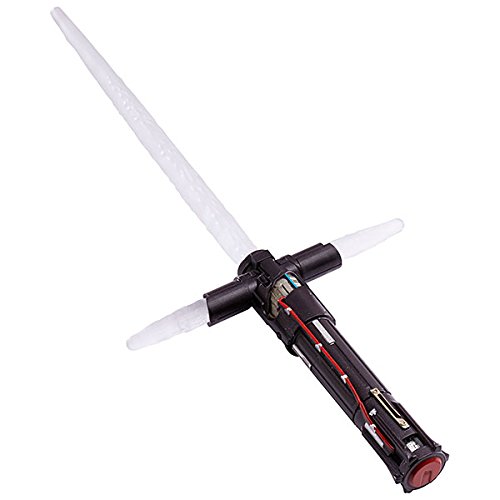 Available at Amazon for $24.99
Nerf Rogue One Sergeant Jyn Erso Deluxe Blaster
Motorized, clip-fed blaster fires 6 darts. GlowStrike technology for light effects and glow-in-the-dark darts. Laser blast sound effects. Includes 6-dart clip and 6 Elite GlowStrike darts. Includes blaster, 6-dart clip, 6 darts, and instructions.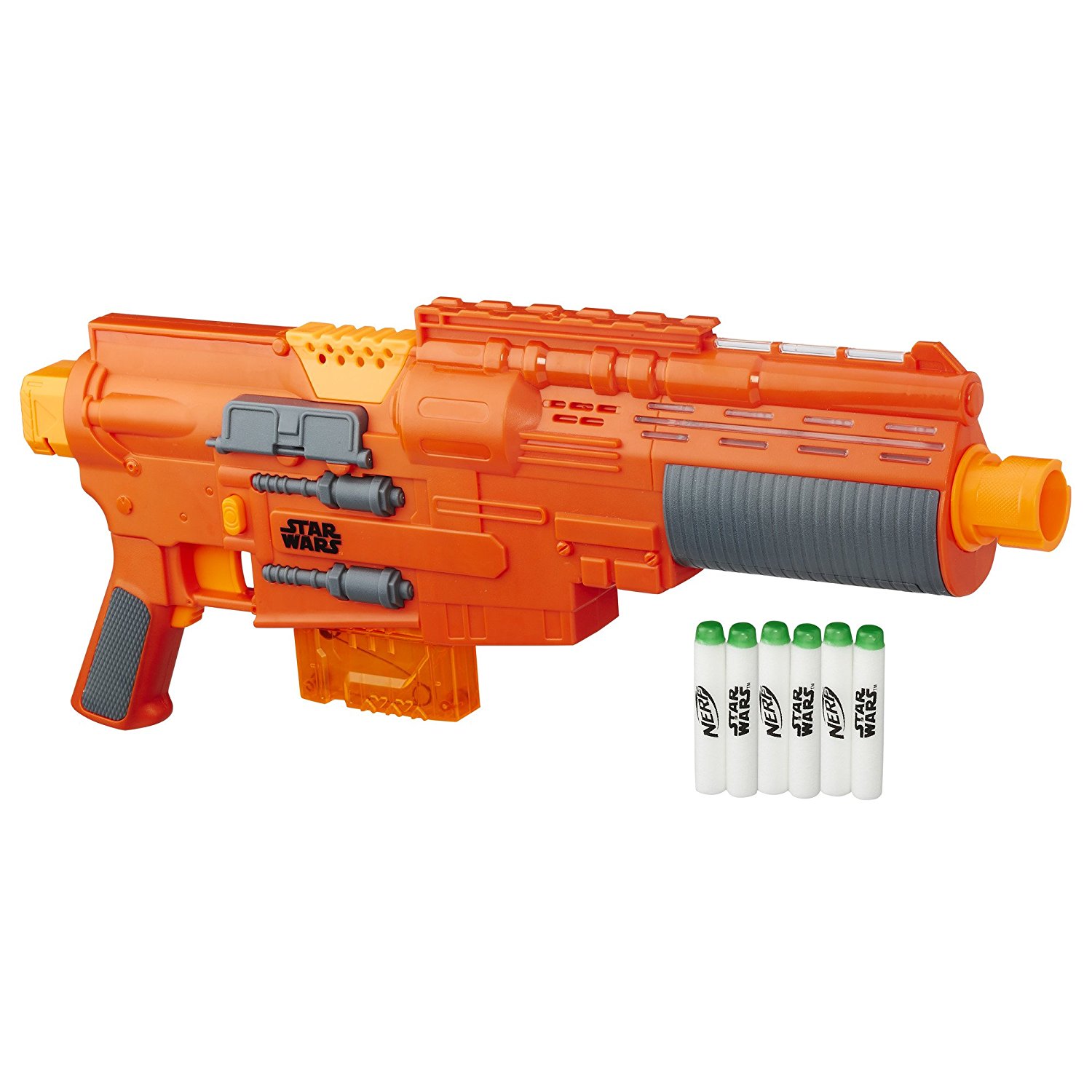 Available at Amazon for $39.73
Star Wars The Black Series Sergeant Jyn Erso
Classically-detailed 6-inch replica of Sergeant Jyn Erso from Star Wars: Rogue One. Collector-grade quality. Multiple points of articulation. Figure scale: 6 inches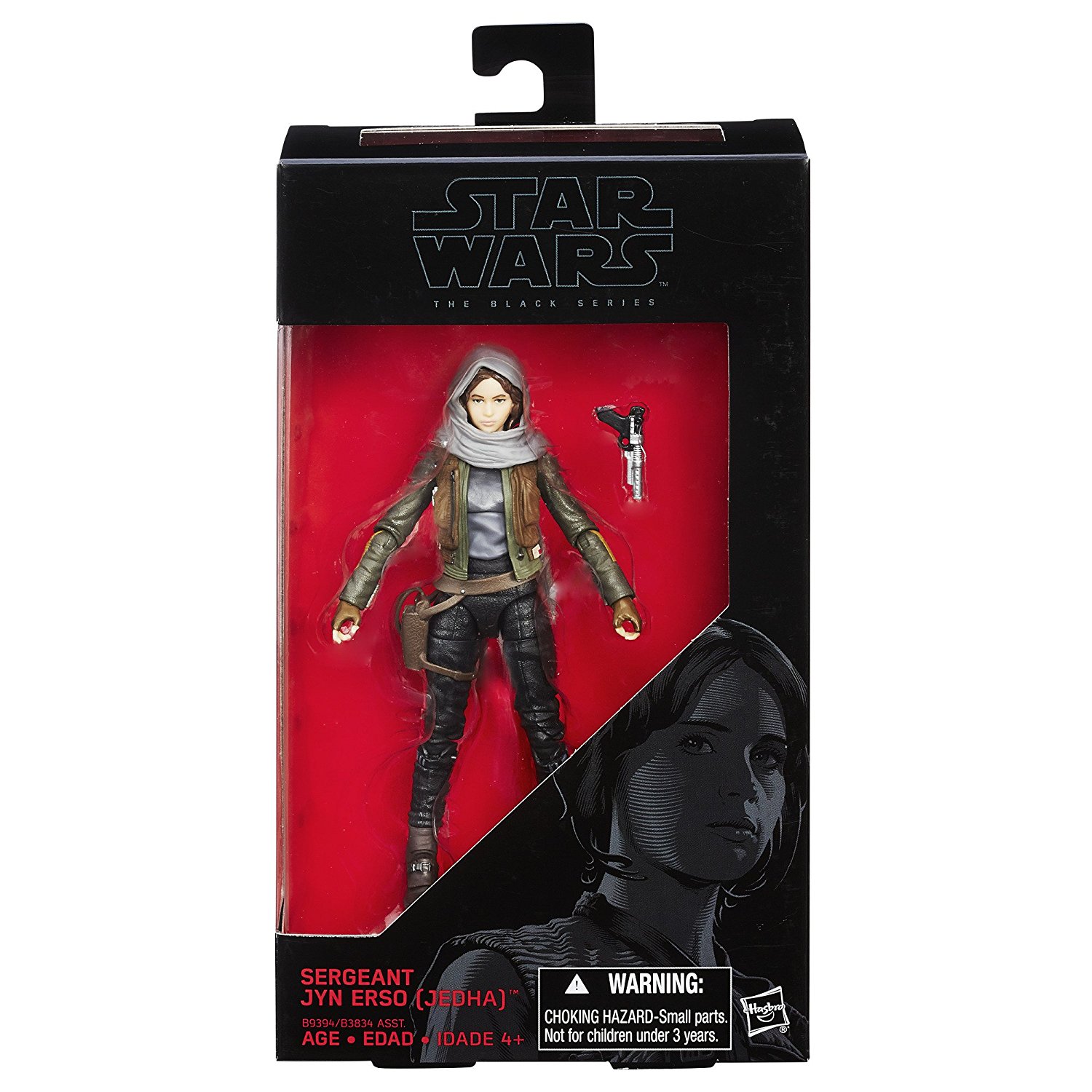 Available at Amazon for $19.99
Star Wars Rebels Funko Ahsoka Pop Vinyl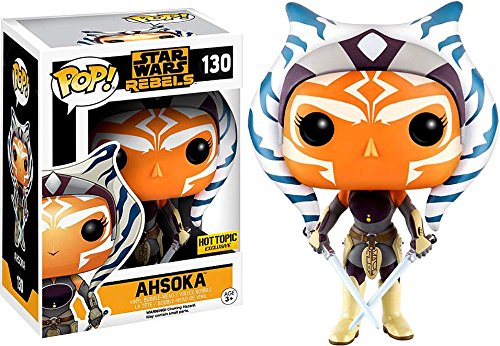 Funko Pop! Star Wars Rebels. Ahsoka #130. Hot topic Exclusive
Available at Amazon for $18.91
Books
Star Wars Secrets Of The Galaxy Deluxe Boxed Set
The secrets of the Star Wars galaxy have been recorded in a series of handbooks and guides created and kept hidden by the Jedi Order, the Sith, the Bounty Hunters Guild, and the Empire itself. Set in-world, richly illustrated, and annotated by characters such as Luke Skywalker, Leia Organa, Boba Fett, Yoda, and Darth Vader, each volume expands Star Wars mythology with details from the inside and deepens readers' experience of the saga. This deluxe edition boxed set collects The Jedi Path, Book of Sith, The Bounty Hunter Code, and Imperial Handbook in a handsome and accessible custom slipcase, creating a handy and invaluable library for exploring a galaxy far, far away.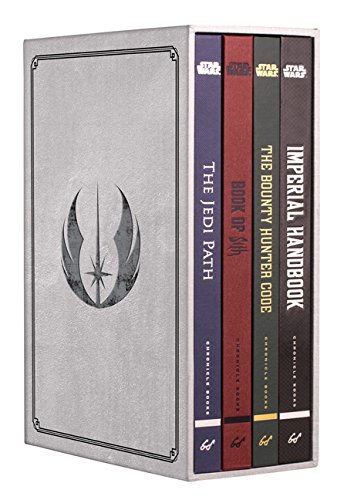 Available at Amazon for $80.00
Star Wars Goodnight Darth Vader/Darth Vader and Friends Deluxe Box Set
Jeffrey Brown's bestselling reimagining of the Star Wars universe, featuring Darth Vader™ as a devoted father to young Luke and Leia, has charmed readers of all ages and made the books galactic bestsellers and classics in their own right. This deluxe gift set reproduces the last two books in the series in a large format—perfect for sharing with young Jedi—that showcases Brown's funny, colorful, and heartfelt artwork. This slipcase edition also includes two unique, frameable art prints created just for this set, as well as custom artwork for the slipcase box.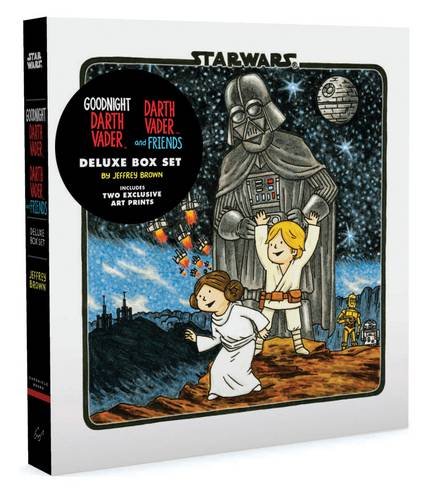 Available at Amazon for $35.00
Fans have long wondered what happened to Ahsoka after she left the Jedi Order near the end of the Clone Wars, and before she re-appeared as the mysterious Rebel operative Fulcrum in Rebels. Finally, her story will begin to be told. Following her experiences with the Jedi and the devastation of Order 66, Ahsoka is unsure she can be part of a larger whole ever again. But her desire to fight the evils of the Empire and protect those who need it will lead her right to Bail Organa, and the Rebel Alliance.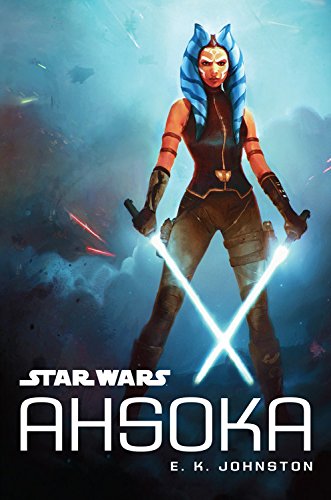 Available at Amazon for $17.99 (hardcover)
Star Wars author James Luceno returns to pen an intense tale of ambition and betrayal that sets the stage for Rogue One: A Star Wars Story.
Available at Amazon for $17.39 (hardcover)
For The Home
Rule your shower with your very own Darth Vader handheld shower head! you can now take the force with you in the shower with a full-force shower head fit for a sith lord. It's the perfect way to turn your shower in your own empire. And you'll find the many features of this shower head impressive… most impressive. It has a rubber grip designed to reduce slipping, a comfort control lever that adjusts water pressure, and 3 spray settings. Experience the shower difference that's out of this galaxy.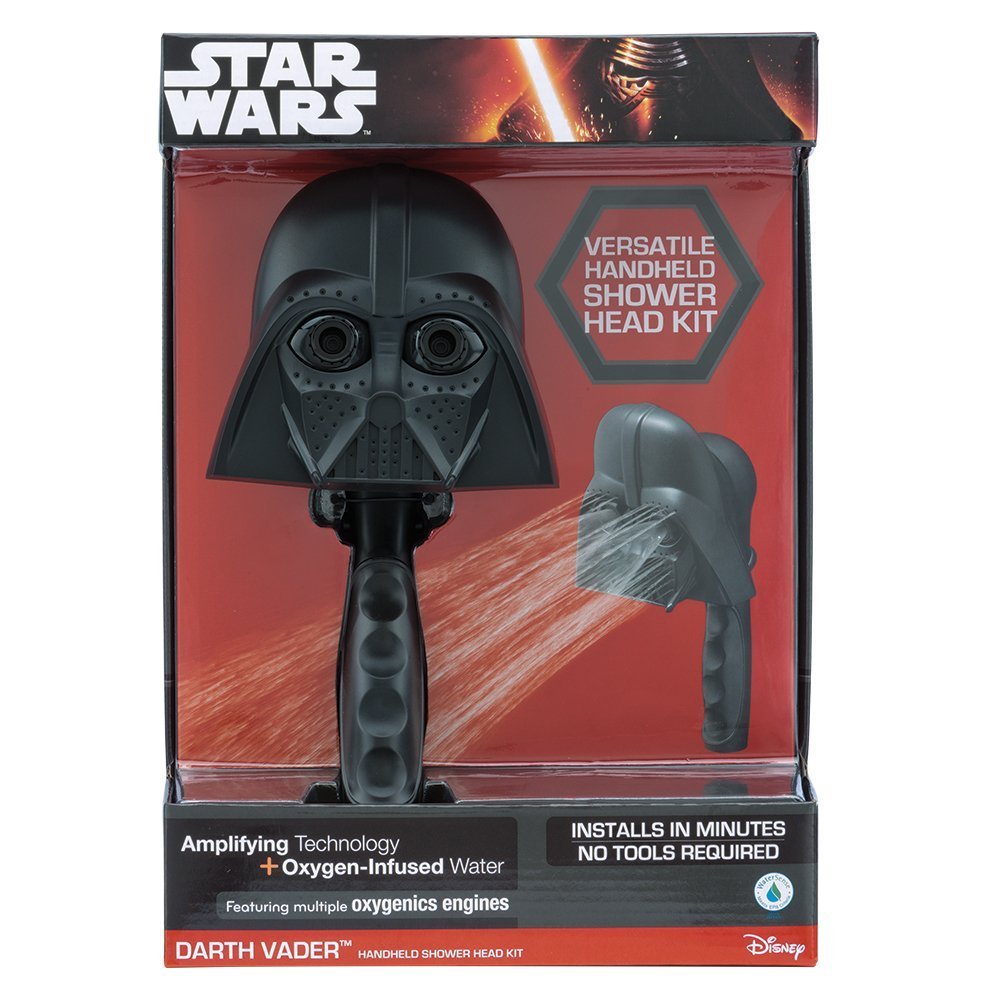 Available at Amazon for $32.95
Help me R2-D2, against dirt and scum, thanks to the Oxygenics Star Wars R2-D2 3-Spray Fixed Showerhead. Your favorite Rebel droid will turn your shower into your own rebel alliance with 3 different powerful spray settings.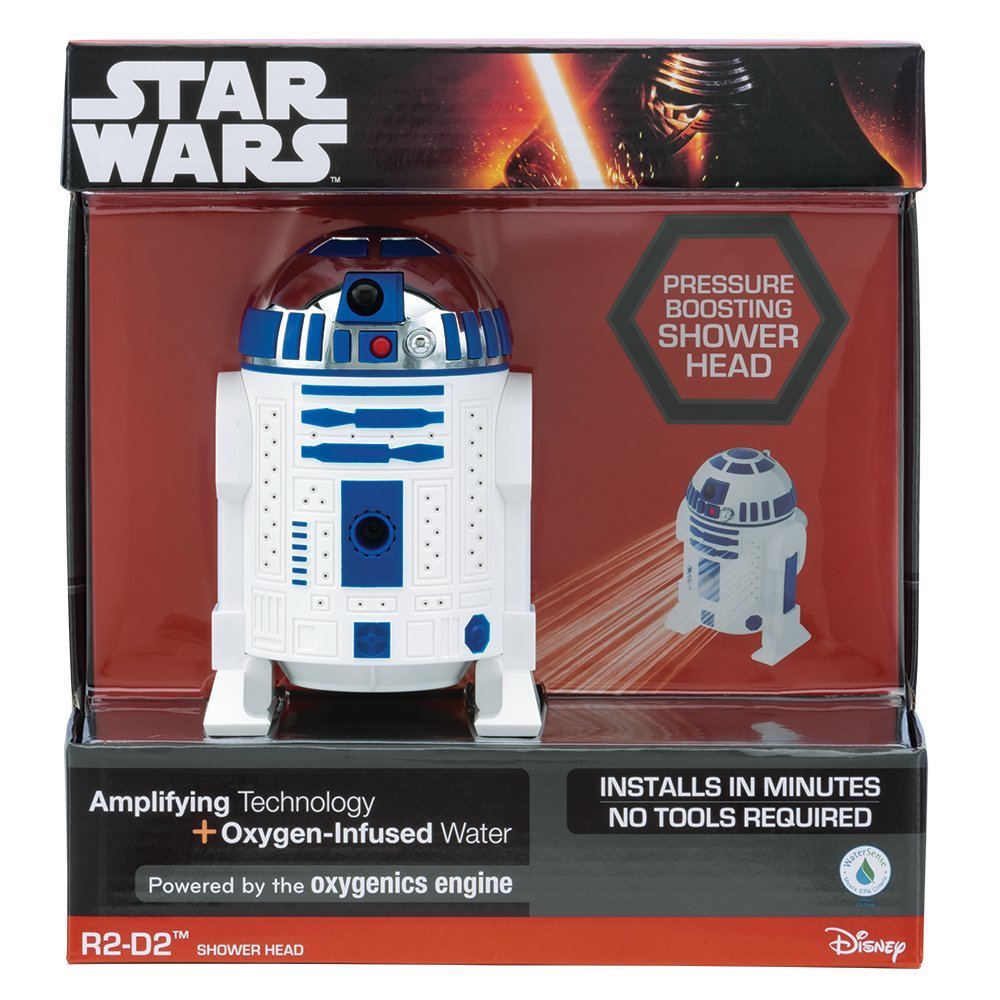 Available at Amazon for $27.95
Star Wars Rogue One Death Star Popcorn Maker
That's no moon, it's a popcorn maker from a galaxy far, far away.nHeats with hot air, creating bright and fluffy popcorn you can season however you'd like. The top half of the Death Star conveniently doubles as a fun serving bowl. Put it on display when not in use – makes a great addition to your Star Wars collection, Easily fits on your shelf or cabinet – measures 12.64″ high and 9.5″ in diameter.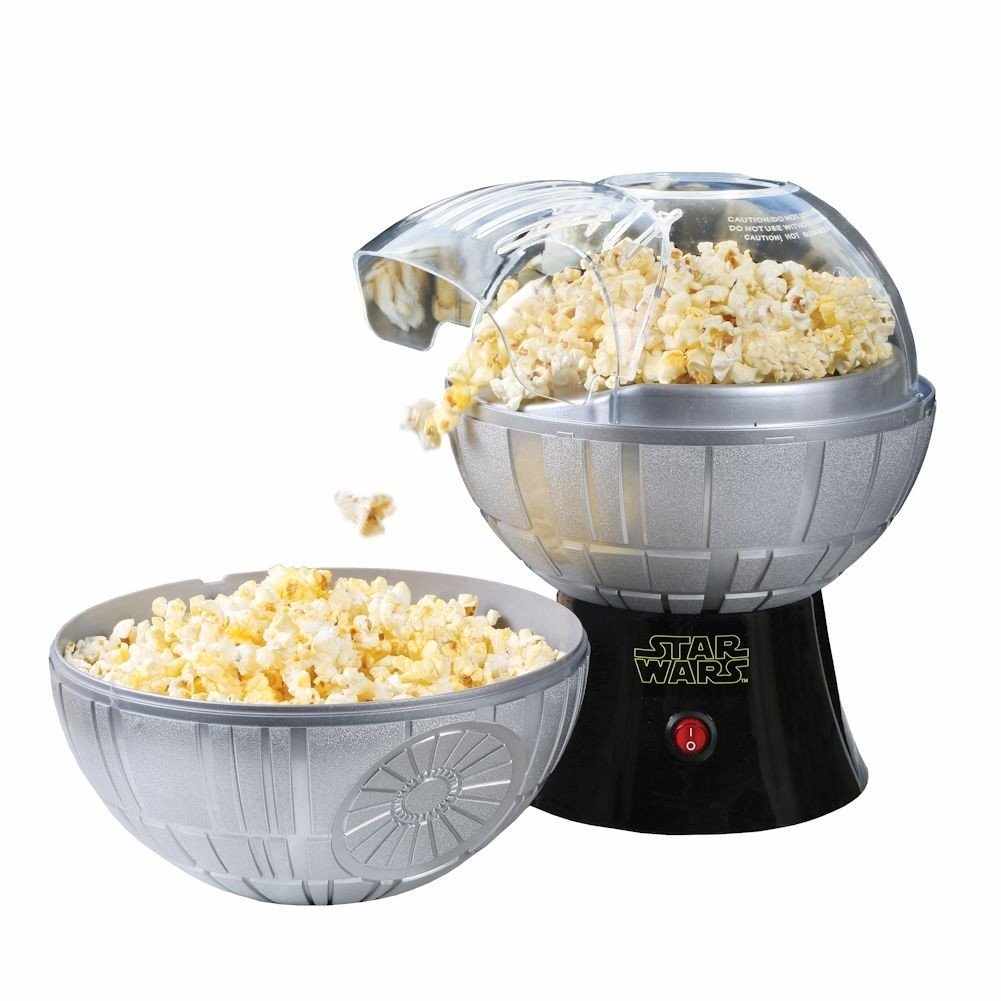 Available at Amazon for $49.99
Han Solo and Princess Leia Stacking Mug Set
Combine two favorites—java and Star Wars—in this practical yet unique gift set. Princess Leia and Han Solo each are featured on one of the ceramic, stacking mugs—perfect for any fan of the Force. Set of 2.
Available at Amazon for $31.33
This IS the droid you're looking for! Made of the highest quality ceramic, the geometric decal design transforms the teapot into the head of the highly resourceful astromech robot. 6″ diameter base. Unique collectible holds about 36 oz.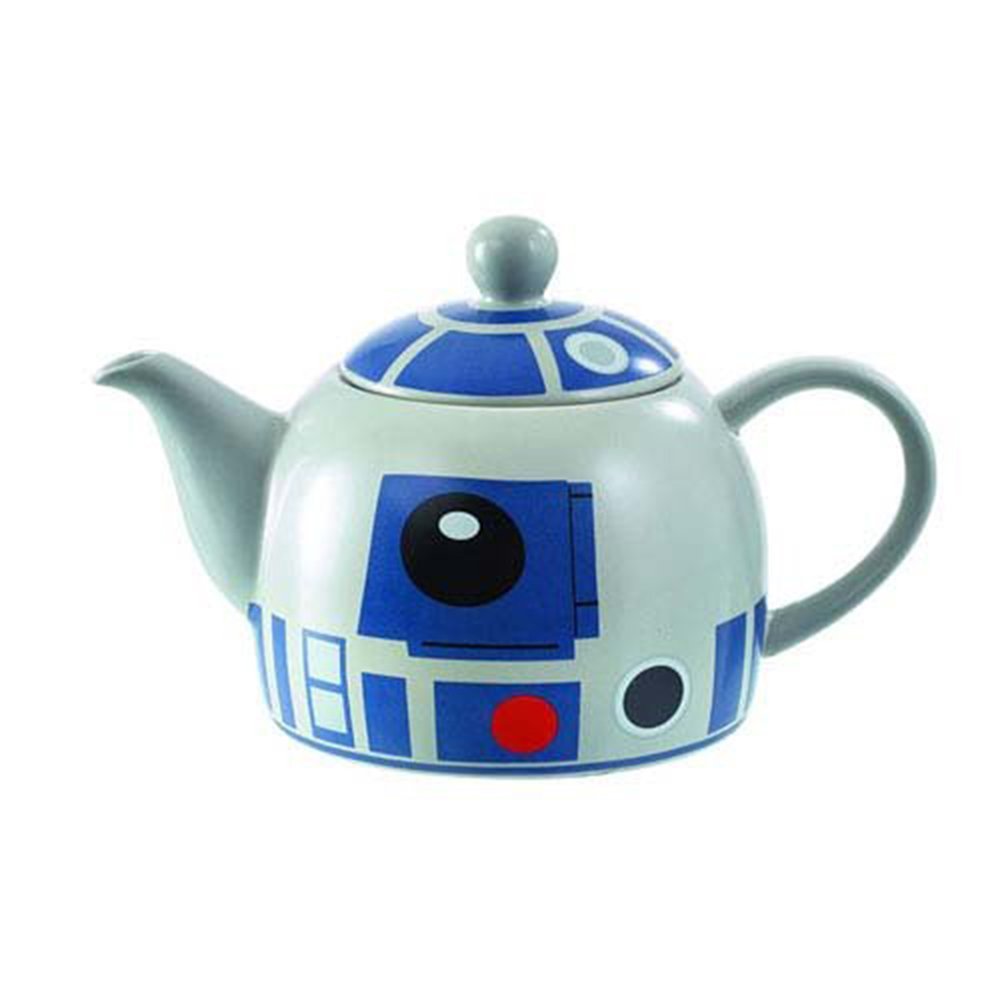 Available at Amazon for $31.66
Clothing and Accessories
Star Wars Chewbacca Han Solo Reversible Hoodie
100% Polyester. Officially Licensed. Reversible design inspired by Han Solo's Hoth parka.
Chewbacca Side is 100% Polyester Faux Fur with no pockets. Han Solo Side is 60% Cotton 40% Polyester with 4 pockets.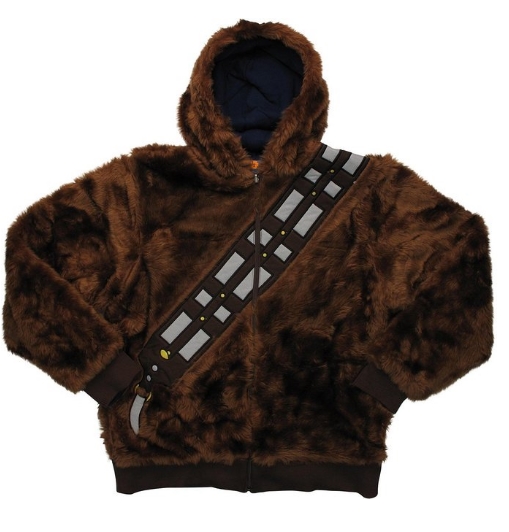 Available at Amazon for $109.99
Star Wars Reverse R2d2 and C3po Tote
Synthetic. Textile lining. Magnetic Snap closure. 10.5″ shoulder drop. 14″ high. 14.5″ wide.
Top-handle tote featuring Rr2d2 design at one side and C3po on the other.
Available at Amazon for $38.98
Rubber. Smooth soft suede upper. Lightly textured canvas fabric panels.Synthetic detailing. Lace up casual Chewbacca the Wookiee™ themed sneaker design. Stitching accents.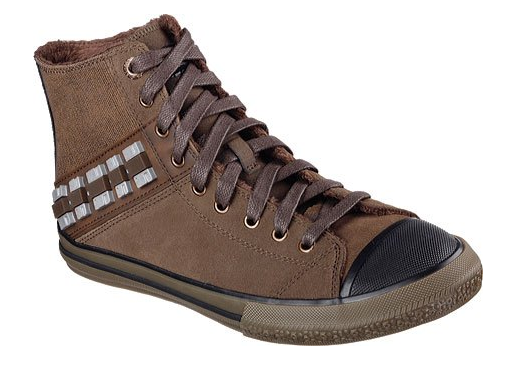 Available at Amazon for $28.00
Art
Printed Canvas. 16″ x 20″ x 1.250″. Ready to Hang Wall Art. Officially Licensed by Lucasfilm Ltd.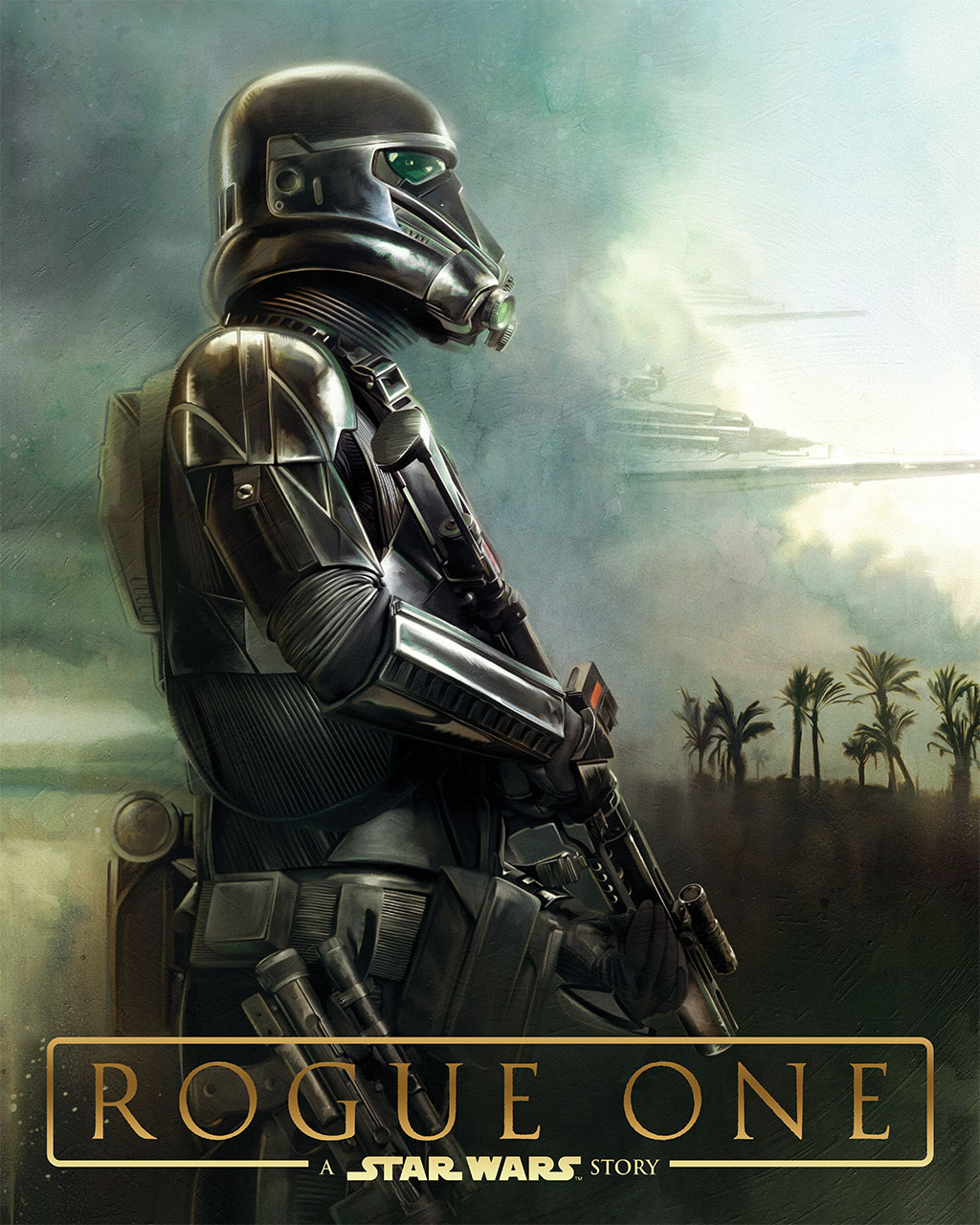 Available at Entertainart for $24.99
Printed Canvas. 16″ x 20″ x 1.250″. Ready to Hang Wall Art. Officially Licensed by Lucasfilm Ltd.
Available at Entertainart for $24.99
Video Games
Star Wars Battlefront Ultimate Edition
Discover characters, maps, and more from the movie, with Star Wars Rogue One: Scarif. That's no moon! One of the deadliest weapons in the galaxy makes its debut, with Star Wars Battlefront Death Star. Join legendary smuggler Lando Calrissian and cold-blooded bounty hunter Dengar in Cloud City, with Star Wars Battlefront Bespin. Fight among the factories of Sullust and battle within Jabba the Hutt's palace on Tatooine, with Star Wars Battlefront Outer Rim.
Available at Amazon for $39.99
LEGO Star Wars: The Force Awakens
A fun-filled, humorous journey based on the blockbuster Star Wars film.