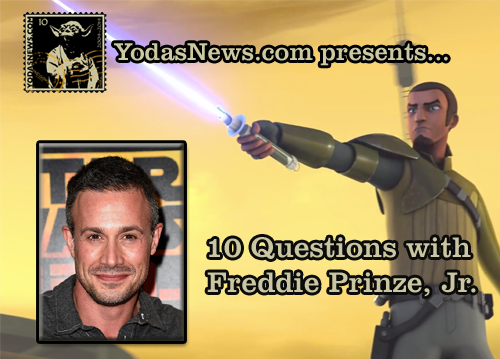 Freddie was kind enough to take some time out of his weekend to chat with Mark and Lea about Rebels,  Star Wars Celebration, and more!
Lea: What do you do to get into Kanan's character for a "Rebels" recording session? Is it a method acting mentality when you all get together?
Freddie: To me the Jedi are samurai. Disciplined, loyal, alone but not lonely. With Kanan, that was his life, was. At a young age his master is taken, I can't say how, season 2 greatness. So now you have a kid, trained as a Jedi, who doesn't question his worthiness in battle but certainly is more street than book-smart, forced into a roll of leadership. So he's cocky, but complicated. He's patient but aggressive. Tough line to walk as far as staying true to the Jedi rules we all know and respect. The writers and Dave (Filoni) do a great job of making him pay when he goes astray so my job is simple; once I have THAT guy in my head and Dave breaks down the world around us its just about committing to the moment, regardless of how heavy or light the moment is.
Mark: Lando Calrissian from "The Empires Strikes Back" and "Return of the Jedi" makes his return to the galaxy with "Idiot's Array," that aired January 19 on Disney XD in the US, how awesome is that and did you have a chance to catch up with him when he did his lines?
F: The Lando episode was such a trip to read let alone perform. You know the writers were geeking out/steel cage fighting it out to write that episode. We weren't able to record with Billy, but we had his recording to work with. He's a living legend.
L: Does the cast record together? If so,  how does everyone unwind after a recording session?
F: We record together about 90% of the time. Everyone prefers it, I think it's one of the special things about our show as hardly anyone else does it. It feels like we do a live Radio Show each week as we record each script. Everyone is fairly busy so not much hang time after work. The last thing you want to do after talking for 6 hours is … Talk.
L:  Do you see yourself doing Kanan's voice for a few seasons or just as far as Season 2?
F:  I love playing Kanan. I hope to voice him forever but that's a Disney question not a me question. We aren't under contract and can be replaced at any time. Animation is much different than film and television. The business in general treats voice actors much differently than film actors. Sad maybe if you're just reading this but it's the nature of the beast. Not good or bad, just Hollywood.
L:  Will we get a chance to explore the relationship between You and Hera?
F: Hera and Kanan explain/discuss their past more than display it. It's wartime in our story and kids, as they do in life, slow down the physical displays of affection. In season 2 certainly learn more about them, but pay attention to how Hera works Kanan and you'll learn a lot more.
L:  How do you feel about being a Jedi Padawan and struggling to being a Master?
F:  If you're asking how it feels to get to play this never-before-seen yin and yang Jedi, it freakin' rules. How many Jedi get to talk sweet John McClane trash to the soon to be victimized Storm Troopers? Let me answer that, ZERO. To see Kanan try, then fail because there is no try, is a very humbling experience. This was my childhood, pretending to be Boba Fett, Han Solo, Luke, etc. Now it's my job. And the people I work with, I miss when I'm gone. It's a great experience every time I get to go in the booth.
L:  What can you tell us fans about what the future holds for Kanan?
F:  What can I tell you about his future … Without getting force choked by Filoni from afar … At the end of season one Kanan will know what it means to be a Jedi. The selflessness necessary to be considered a master. Season 2 he learns how to let go. You'll learn his pain, in detail, in a scene Dave and I recorded in private. Kanan breaks down and gives you everything you've been wondering (unless you get the comics but you don't get to hear me lose my $@&! Without watching)
M:  You can't walk down a toy aisle without seeing a Kanan toy or figure, from 3 3/4″ to 20″, plastic, plush and LEGO – How does it feel to see your character all over the Toy world?
F:  You mean you don't have the Christopher Blair Wing Commander action figure with the jiu-Jitsu grip??? Who doesn't?! (It's pretty cool though)
L:  What characteristics from your own personality, do you see in Kanan Jarrus that make him who we see on screen?
F:  Dave would say my jerk face smirk, but that's because he sees himself in that exact same smirk. I try to make Kanan confident, battle ready and loyal. Humility is the key and foundation to any good Jedi so it's a constant battle in my own brain, but I think we're doing a good job.
M: It was announced earlier that you will be attending Star Wars Celebration this April, anything outside of your "official" duties you are looking forward to as a fan?
F:  I live an hour from Disneyland and go all the time. I'm just there for the Star Wars fans and to share the love. Remember Disney owns the force now, and I work for Disney. I got the line skipping hook-up. Would I rather have a contract? Sure. But free Star Tours rides is pretty sweet too. Nothing against Captain Eo, but when Pee Wee Herman is piloting your transport shuttle, you're doing pretty damn good. Peace you guys. Hope this works for you and hope to see you in Anaheim.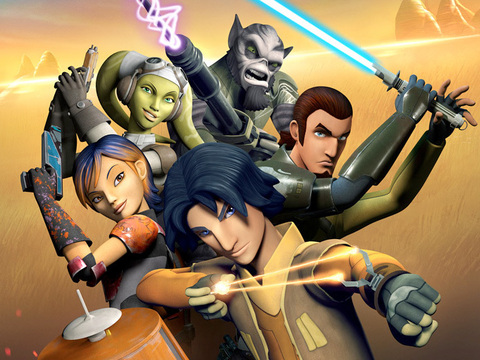 A huge thank you goes out to Freddie for taking the time to chat with us. We can't wait to see what happens next on Rebels!
Star Wars Rebels, set five years before the events of Star Wars: Episode IV A New Hope, tells the story of the Rebellion's beginnings while the Empire spreads tyranny through the galaxy. Star Wars Rebels airs Monday Nights at 9p/8c on Disney XD.