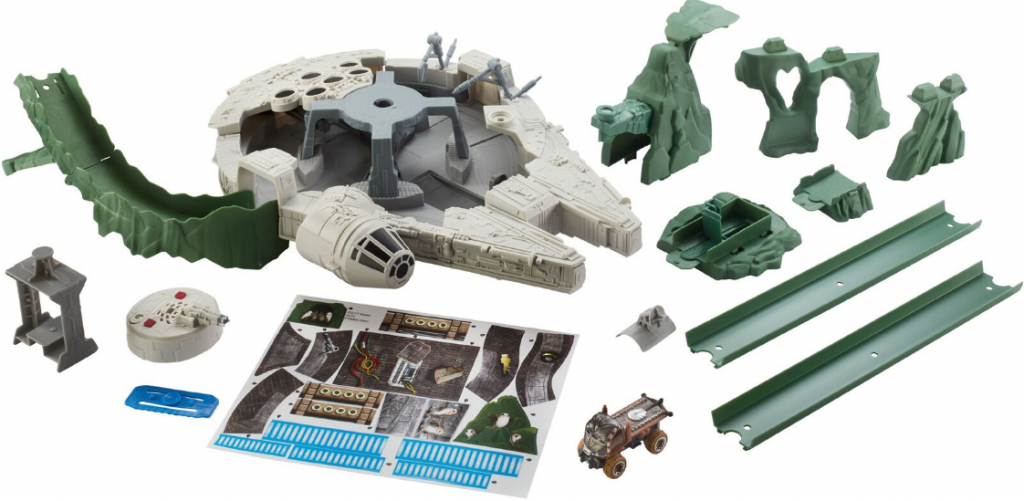 HOT WHEELS® STAR WARS™ Character CarS Millennium Falcon™ Track Set (DWM85)
SRP: $ $39.99 | Age: 4+
The Hot Wheels® Star Wars™ Millennium Falcon™ playset allows kids to reenact their favorite scenes from the Star Wars™ universe using their collection of Hot Wheels® Character Cars.
The Millennium Falcon™ has broken down and must be fixed for battle before the First Order launches their attack.
Take the elevator up to fix the hyperdrive, tune up the engine and man the guns. When ready to launch an attack, lower your vehicle into the Smuggler's Bay, aim carefully and then launch your Character Cars along the Hot Wheels® track and towards the First Order to take them out and defeat the dark side.
Other features include lights and 20+ Star Wars™ sounds.
Set includes an exclusive Chewbacca™ Character Cars.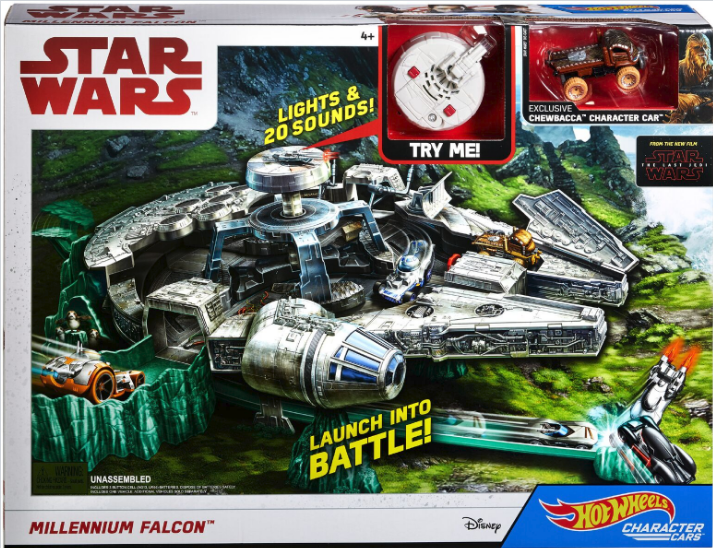 HOT WHEELS® STAR WARS™ Character CarS Assortment (FDJ70)
SRP: $3.99 | Age: 3+
Two of the most iconic brands in adventure — Hot
Wheels® and Star Wars™— have formed
an alliance!
Kids and collectors alike will love seeing their favorite Star Wars™
characters reimagined as Hot Wheels® cars. Each 1:64-scale Character Cars is individually
designed to accurately reflect iconic Star Wars™ characters, combined
with the thrill of Hot Wheels® racing excitement.
Re-create your favorite storylines, send the cars flying at light speed on a Hot Wheels® Star Wars™ track set (sold separately),
or display them with your other favorite Star Wars™ collectibles. There's an entire galaxy to choose from — collect them
all!
New character cars include: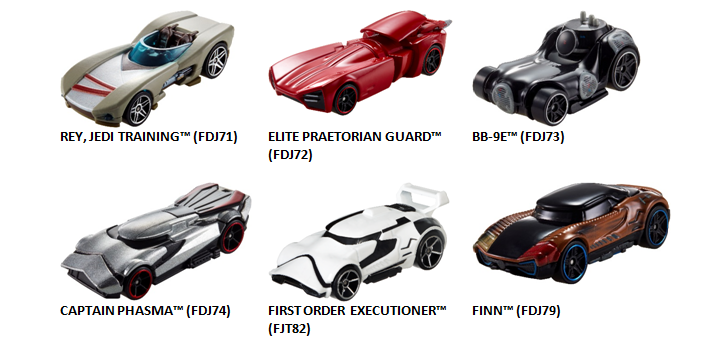 SRP: $4.99 | Age: 4+Hot Wheels® Star Wars™ Starships Assortment
Launch into hyperdrive with one of the most iconic starships from Star Wars™, brought to you by Hot Wheels®.
Kids will love re-creating some of the galaxy's most epic battles and fiercest showdowns with this detailed die-cast starship.
Attach the flight stand (included) to display your Starship collection. Starships are compatible with Hot Wheels® Star Wars™ play sets (sold separately), so kids can build an entire galaxy of play!
New starships include: