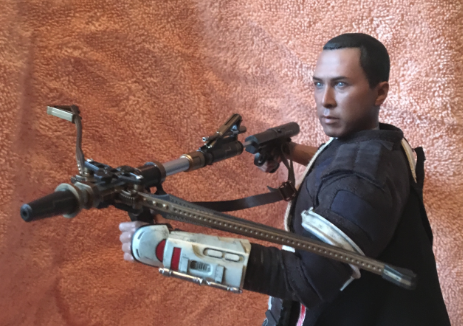 The Sixth Scale Figure by Hot Toys Chirrut Îmwe (Deluxe Version) is set to ship in May from Sideshow, and we have our figure in hand right now to share with you! First, some information from Sideshow about this figure:
"I fear nothing. All is as the Force wills it."
Fans worldwide are stoked about a new adventure in a galaxy far, far away – Rogue One: A Star Wars Story! One of the most exciting new characters introduced in this epic film is Chirrut Îmwe, a blind warrior monk from Jedha. Chirrut believes all living things are connected through the Force, and his profound spirituality makes him a formidable warrior crucial to the Rebels' desperate attempt to steal the plans of the Empire's devastating super-weapon – the Death Star.
In celebration of the famed Hong Kong actor and martial artist Donnie Yen starring as the spiritual warrior Chirrut, Hot Toys is excited to present a special Deluxe version of the sixth scale Chirrut Îmwe only available in selected markets. This extremely life-like collectible figure is specially crafted based on the character's appearance in the film, featuring a newly developed head sculpt, a meticulously tailored costume, detailed weapons, and accessories including a staff and a crossbow. This Deluxe Version will exclusively include a diorama figure base with a Stormtrooper helmet and a special package design inspired by traditional Asian art!
It is time to #GoRogue and expand your Star Wars Hot Toys collection!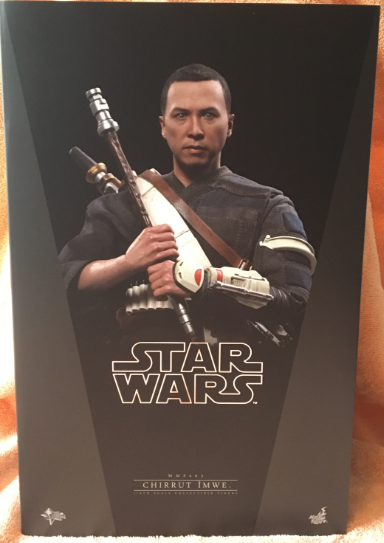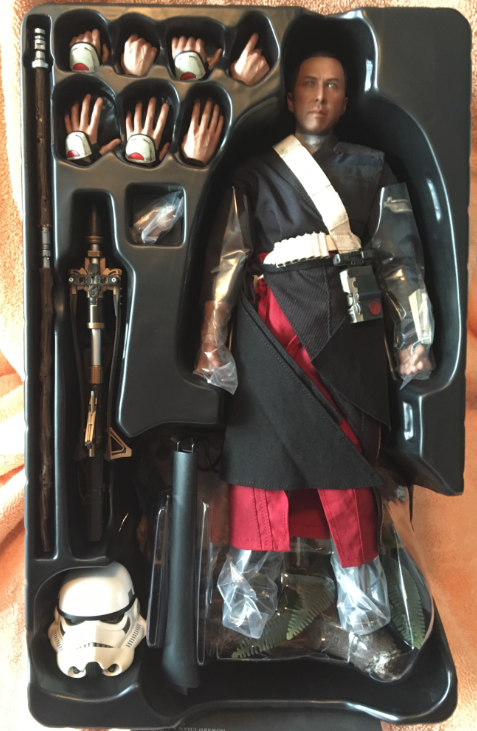 Jumping right in, the box is a work of art, the interior artwork and the latch are beautiful! The specially crafted package design is inspired by traditional Asian art and really pops!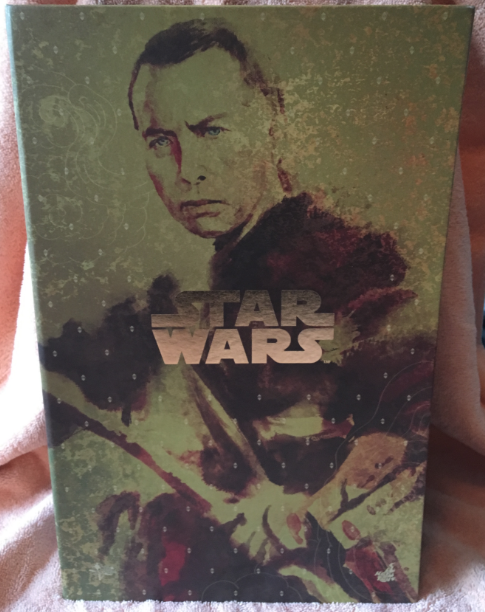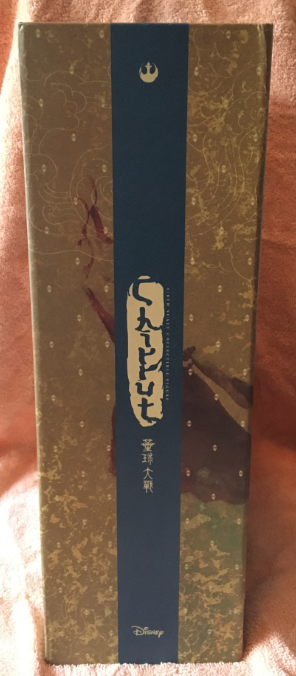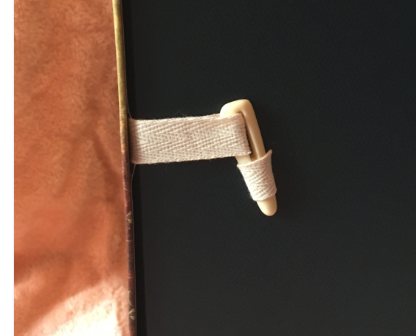 WHAT'S IN THE BOX?
The Chirrut Îmwe Sixth Scale Collectible Figure specially features:
An authentic and detailed likeness of Donnie Yen as Chirrut Îmwe in Rogue One: A Star Wars Story

Movie-accurate facial expression with detailed skin texture

Approximately 29 cm tall

Body with over 30 points of articulation

Nine (9) pieces of interchangeable hands including:
– One (1) pair of fists
– One (1) pair of open hands
– One (1) pair of hands for holding staff
– One (1) pair of hands for holding crossbow
– One (1) left hand for fighting gestures

Each head sculpt is specially hand-painted
Pictures do not do this justice! At every single angle this is Donnie Yen! I repeat this is a 1/6th scale Donnie Yen in your home! I wondered how the eyes would look in person and as usual, Hot Toys nailed it. The costume is perfect down to each and every stitch. And with with over 30 points of articulation, you can pose him in any position you would like with ease, just like he battled in the movie!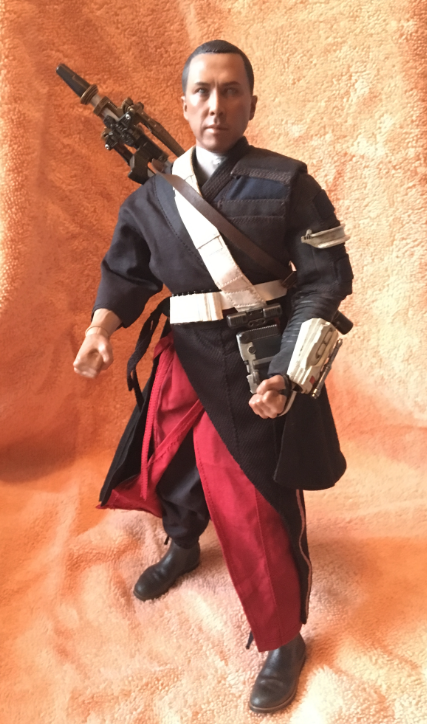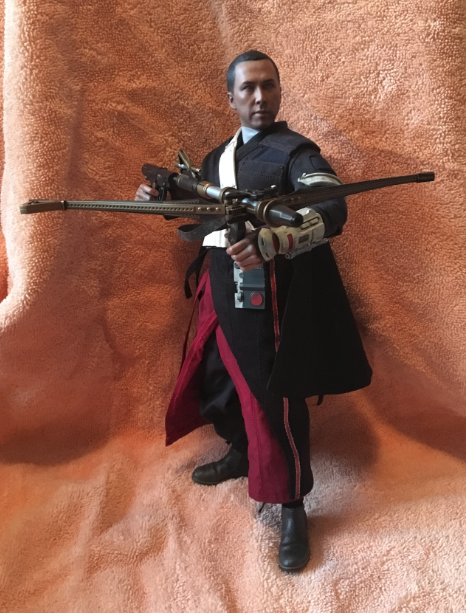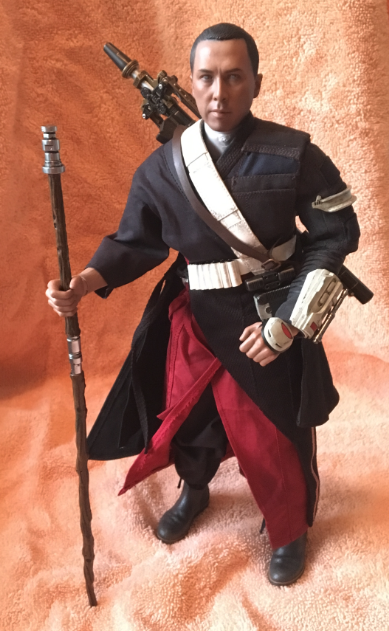 The Deluxe Version exclusively has an awesome diorama figure base with a Stormtrooper helmet (The helmet can be displayed anywhere on the base, or around it, but can't be put on the head). I did have a little trouble getting the figure stand to fit into the base, it takes a little bit of wiggle and elbow grease. He also stands fine without it. I think the rubber of the rocks extends a little too far, but the base and helmet really makes this figure so if you can, I would suggest getting the deluxe version.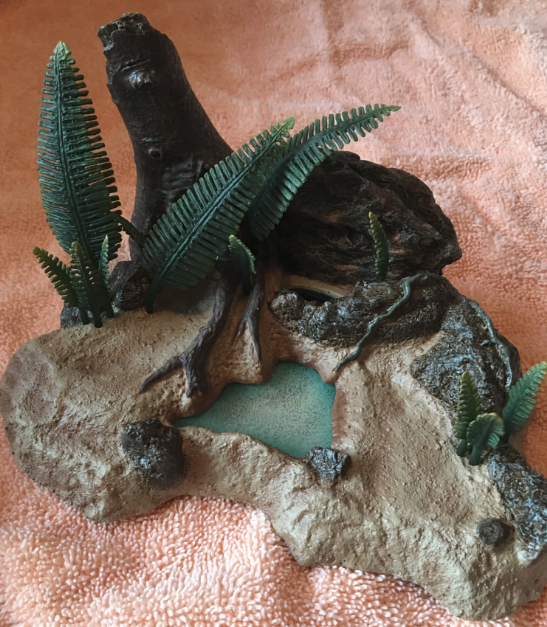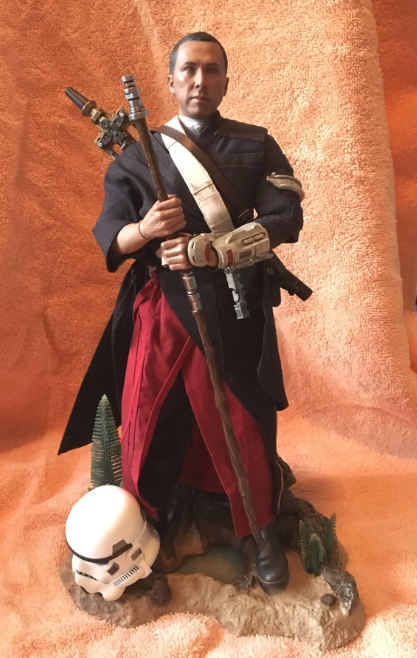 The figure sells for $244.99 and can be pre-ordered right now at this link. We would like to thank Sideshow for providing this early review sample to share with our readers, this is a welcome addition to the collection!