on
March 30, 2017
at
1:47 pm
Gentle Giant Ltd. Premier Guild 2017
Yesterday we announced the first four of our six Premier Guild 2017 gift offerings. If you missed any of those previous announcement check out our official blog for further details. Today we are announcing the final two of our 2017 PG gifts, one this morning (this) and this one in the afternoon.
The wait is almost over!
Premier Guild 2017 sign-up starts tomorrow!
TOMORROW, Friday 3/31 at 10am PST you will be able to start ordering your membership tier of choice for the newly revamped Gentle Giant Ltd. 2017 Premier Guild on our website www.GentleGiantLtd.com
This morning's reveal is for the new Collector's Gallery statue and it is VERY early. It so early that we don't even have a digital render to show you, just one of our pieces concept art for the character. We will have an updated look at the statue in a few weeks at Star Wars Celebration, but for now think of this announcement more like a character announcement rather than a concept/pose announcement. This statue will change and we will share the progress updates with you as we get further along.
Gift Announcement #5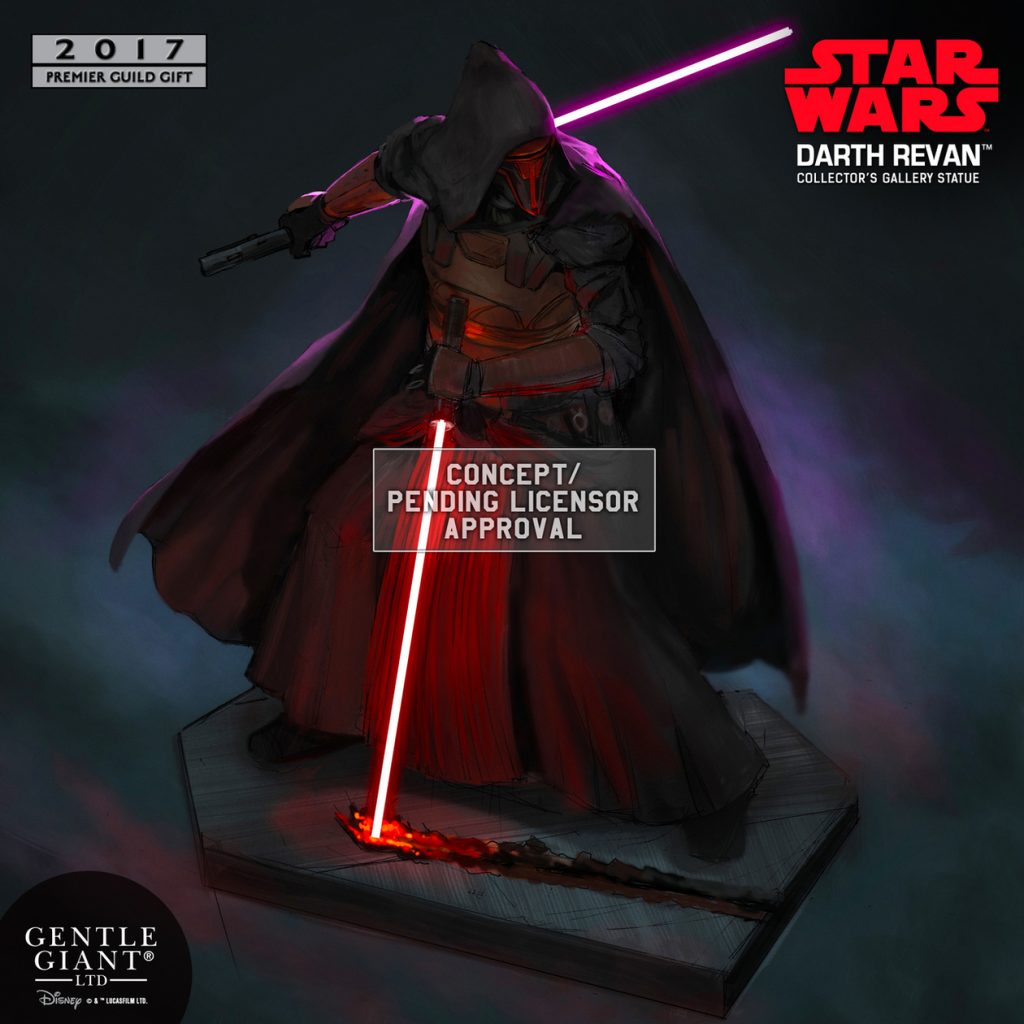 Darth Revan of Star Wars: The Old Republic Collector's Gallery Statue
Sometimes Jedi, sometimes Sith, sometimes prodigal knight, the man knows as Revan played a pivotal role in both the Mandalorian Wars and the Jedi Civil War in the time of The Old Republic. While fighting in the Mandalorian Wars, young Revan donned the mask of a fallen Mandalorian warrior and became Revan. He then joined the Republic army and was soon appointed to be the Supreme Commander of their forces and was a military commander to be reckoned with. Shortly thereafter he and his friend Malik discovered a reformed Sith Empire and was turned to the dark side of the force by the new Sith Emperor, thereby becoming Darth Revan.
Each limited edition, hand-painted piece is cast in high quality polyresin with crisp details in his mask, armor and duel lightsabers. This statue also comes individually numbered with a matching certificate of authenticity. This Star Wars: Darth Revan Collectors Gallery statue is part of our new series of 1:8 scaled statues, celebrating the last 40 years of the Star Wars universe.