Via our friends at Rancho Obi-Wan:
Hello friends! On behalf of everyone at Rancho Obi-Wan, THANK YOU for coming to see us at Star Wars Celebration Chicago. It was great to see so many friends and make new ones. Your support there was integral to our continued operation. If you didn't get to Chicago, we hope to see you at Star Wars Celebration in Anaheim, August 27-30, 2020 where our exhibit will take you back 40 years to Star Wars Episode V: The Empire Strikes Back.
Save the dates – June 12-13, 2020 for Return of the Gala! Friday, the 12th, will be reserved for wine tasting featuring wines from Skywalker Vineyards. Saturday the 13th, enjoy the long summer day with a barbeque, games, auctions and fun! This year's 2019 Fundraiser takes a different turn with an online auction of original art and other items. More information coming this fall. Hint: DS-1.
Star Wars Day at the Park – Come see us at the San Francisco Giants Star Wars Day at the Park, Sunday, September 15, 2019. We will have a small exhibit of helmets at the VIP Experience in Triples Alley that starts at 10:35am. Those attending the VIP event get 3 Giants Star Wars collector's items! Special tickets are required.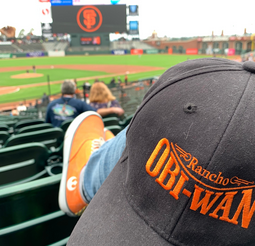 Introducing Deep Dive Tours – This fall we will host a series of themed in-depth experiences here at Rancho Obi-Wan. See things rarely shown in an intimate, relaxed atmosphere. Tickets go on sale August 7,2019.