on
February 16, 2017
at
7:19 pm
Luke Skywalker? I thought he was a myth
Separated from her family as a child, Rey lives a solitary existence on the desert planet of Jakku.
She struggles to make a living as a scavenger among the detritus of the fallen Empire. Clambering through the dark and dangerous wreckage of a crippled Star Destroyer, she hunts for useful parts that she can trade for enough food to survive for one more day.
Reys lonely life on Jakku has left her disheartened but far from broken. She is determined to find a place for herself in the universe, and, thanks to a chance encounter with a lost BB unit, her life will never be the same again
The character of Rey marked a whole new chapter in the Star Wars saga. The excitement surrounding this charismatic young woman was incredible. And, thanks to a masterful performance by British actress Daisy Ridley, she has become a firm fan favorite for Star Wars lovers both young and old.
Sideshow collectors have come to expect nothing short of excellence from our Premium Format pieces. Mixing sculptural and fabric elements with supreme movie-accuracy and phenomenal attention to detail, for many collectors our Premium Format Figures have become the gold standard.
This new piece is no exception!
Standing 20 tall from the bottom of her sandy base to the tip of her trademark staff, this limited edition Premium Format Figure captures Reys likeness so perfectly that it is almost like a snapshot of a moment in time. The beautiful and thoroughly lifelike portrait of Daisy Ridley, with her determined expression and intricately sculpted hair, is utterly entrancing.
Every piece of her outfit has been painstakingly reproduced for the utmost accuracy and authenticity. Her multiple layered and textured fabric garments and accessories, with every miniature fold, seam, and stitch, have been duplicated exactly.
Whether you choose to display Rey as a stand-alone piece, or couple her with our BB-8 Premium Format Figure, we are sure that she will become the highlight of your Star Wars: The Force Awakens collection.
Sideshow Exclusive: Reys Rebel X-Wing helmet. A relic scavenged from the wreckage on Jakku.
Click below to order now!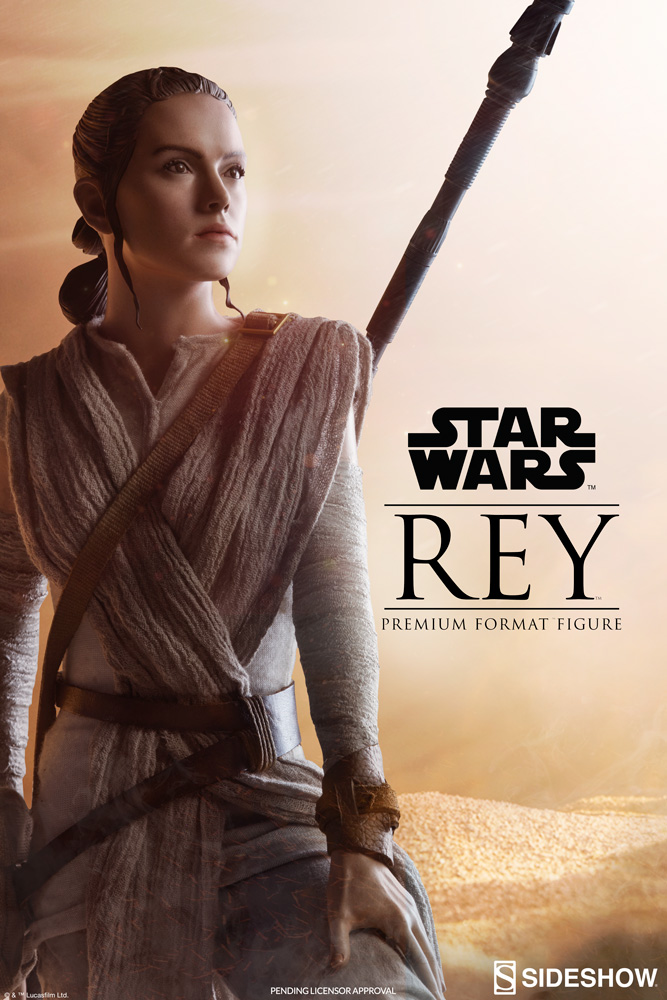 It all began as a sketch drawn by J.J Abrams on a napkin one evening.
A deceptively simple design comprising of little more than a ball with a dome on top, but Abrams novel idea for a droid (which he named BB-8) was quickly brought to life by special effects wizard Neal Scanlan and became both an engineering marvel and one of the most exciting and innovative practical effects in recent movie history.
Abrams and his creative team also managed to develop a droid that was packed with charm and personality. BB-8 was the little robot that captured the hearts of everyone who saw him an adorable new member of the Star Wars universe!
BB-8 is a BB Unit Astromech droid, a friend, and companion to Resistance pilot Poe Dameron. In Star Wars: The Force Awakens we saw him roll adorably into action alongside Poe, Rey, and Finn as they fight The First Order. He quickly became an office favorite character here at Sideshow HQ, and it is our pleasure to offer him for the first time in our flagship Premium Format.From the bottom of his base to the tip of his antenna, BB-8 stands 9 tall, and he is simply overflowing with the little intricacies that you have come to expect from our Premium Format Figures.Weve captured every subtle nuance of BB-8s ingenious design, from the surprisingly soulful and character filled eyes of his photoreceptor, to the stained, scratched and dirty panels of his spherical body, each little detail helps to make this chirpy little Astromech come to life and steal your heart. Both BB-8s head and torso feature integrated LED light up features, bringing another layer of screen-accurate detail as well as added visual charm to this adorable BB unit.
BB-8s desert themed base is designed to echo the visuals found on our Rey Premium Format Figure.
Whether you choose to display him on his own, or as a companion piece to Rey, we know hell be one of the prized jewels in your Star Wars collection!
The Sideshow Exclusive variant BB-8 features a swap-out panel with an extended welding tool giving a "thumbs up" gesture.
Click below to order now!
Order Rey and BB-8 together and save $40!
Click below to order now!