For the past 12 years, we have had the honor of bringing you daily news, product reviews and coverage of many conventions. We have enjoyed sharing our love of Star Wars with you. As our 12 year anniversary is upon us, we would like to thank both our staff and our readers. To our staff, we are grateful for the commitment, drive, and energy that you to bring to Yodasnews. Without your tireless dedication, none of this would be possible. To our readers, it is your dedication and loyalty that keeps alive this great franchise; it is a pleasure and an honor to share it with you.
During the month of February, we have amazing giveaways planned to thank you, our readers, for all your support over the last 12 years! This year, we have over 300 prizes worth over $5,000!
Also, as with previous anniversaries, we are giving away prizes for both our casual readers and those who follow us on social media. Keep your eye out for special events to test your creativity, fun and competitive trivia nights, and much more. It all starts today, stay tuned for how to enter the first giveaway around noon EST today!
Some of the items up for grabs include:
Five $40 Gift Certificates to BBTS
First Order Heavy Gunner 1/6 Scale by Sideshow Collectibles
Limited Edition Art Prints
San Diego Comic Con Black Series Jabba The Hut
Hasbro Black Series Rey Figure
Hasbro Micro Machine Play Set
Kotobukiya Snowtrooper 2 Pack ARTFX
Kotobukiya AT-AT Driver ARTFX
Star Wars The Force Awakens Galaxy Premiere Ticket
2016 Membership Kit to Rancho Obi-Wan which includes a T-Shirt
Two Gentle Giant Endor Rebel Mini Busts
Two Gentle Giant AT-AT Bookends
Two Gentle Giant Jumbo Biker Scouts
Two Gentle Giant Jumbo Wickets
Gentle Giant Zam Wessel Statue
Gentle Giant Star Wars Bookend
Over 50 Action Figures From various Lines Over The Last Five Years (Black Series, Clone Wars, etc.)
Star Wars Science Items from Uncle Milton
And more…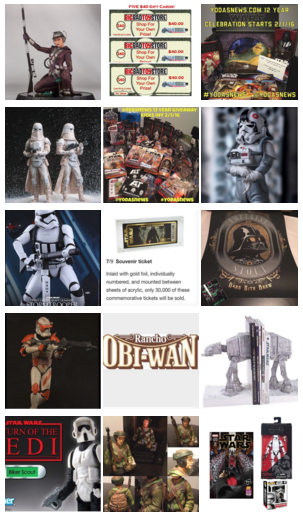 You can see these, as well as, other prizes right here. Of course, none of this could be possible without the generosity and support of our Anniversary Sponsors, so be sure to check them out on our prize page. The first giveaway will kick off shortly.