Three New Gentle Giant Star Wars Items For Pre-Order!
on
August 12, 2018
at
5:00 pm
Via Gentle Gaint Ltd.:
Three New Star Wars Items Available for Pre-Order!
This month with our new pre-orders we have all of the Empire Strikes Back bounty hunters accounted for in our 1:8th scale Collector's Gallery statue line. Dengar joins the rest of the crew and their prize, Han Solo in Carbonite round out our bounty hunter focus we have been working on for the past year. We have special bundle pricing for both of these new pieces for our Platinum Premier Guild Members for a limted time. See below for the details!

Our other new item made it's debut just a few weeks ago at SDCC 2018, our Porg Bookends set. These were a big hit at the show and you will want them for your shelf as well. Get a set before they fly away… or at least try to.
Dengar Collector's Gallery Statue
Dengar is an effective bounty hunter. While some hunters prided themselves on finesse and style, Dengar preferred firepower and destruction to capture his targets. Boba Fett enjoyed working with Dengar and held him in high regard due to his proven record of accomplishment in hunting down prey.
In Gentle Giant LTD's newest Collector's Gallery statue, we see a battle-hardened Dengar guarding a supply crate full of additional firepower with his trusty Valken-38 carbine rifle in hand. Hossing all of that heavy firepower from one end of the quadrant to the next has taken its toll but it has been worth it to establish his reputation as one of the best hunters in the galaxy. Dengar has seen it all and has lived to tell the tale; you can see every bounty etched into his face, every struggle to capture his prisoner scratched into his armor. He missed the bounty for Solo, but he has gone back to his armory to reload and he will get his next mark… dead or alive.
Dengar is the sixth statue in Bounty Hunter 1:8th Collector's Gallery line celebrating over 40 years of the Star Wars universe. Each limited edition, hand-painted piece is layered in character detail and is cast in high quality polyresin with crisp, screen accurate details. This statue also comes individually numbered with a matching Certificate of Authenticity.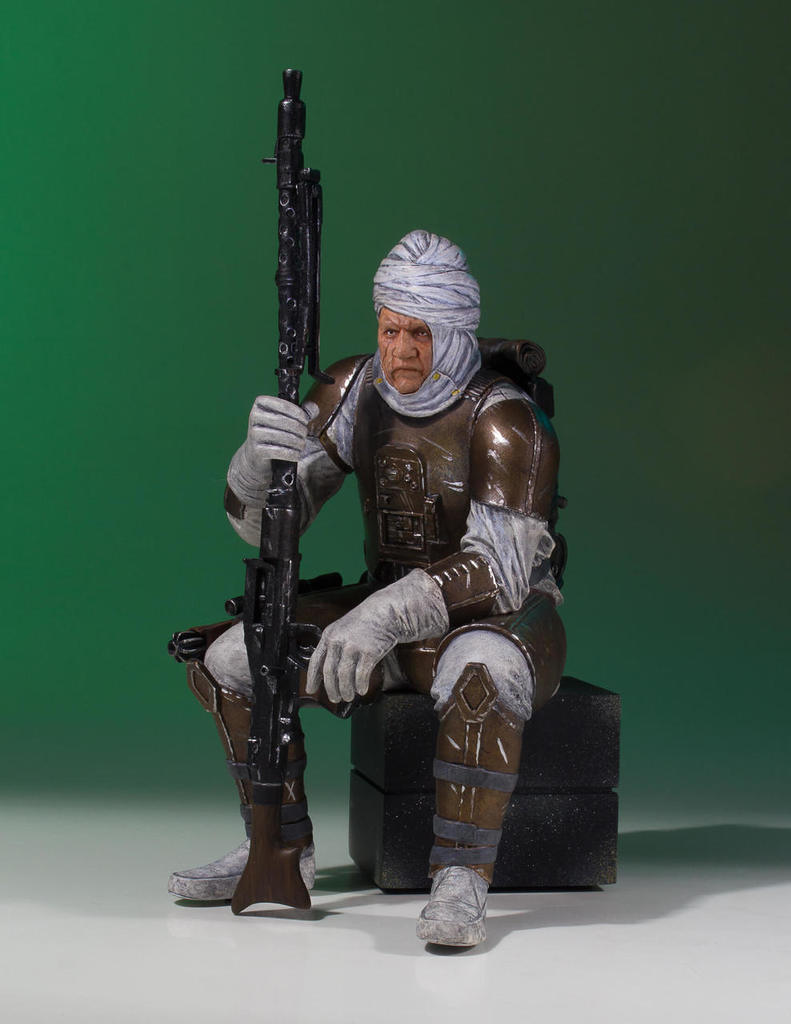 Han Solo In Carbonite Collector's Gallery Statue
Carbon-freezing is an industrial process that encases highly pressurized gasses inside of solidified carbonite. In Cloud City Darth Vader sets a trap for young Luke Skywalker to be frozen and tests the process on his prisoner Han Solo. The smuggler turned hero survived the freezing process, in perfect hibernation, and Vader hands captain Solo over to the bounty hunter Boba Fett to take back to the gangster Jabba The Hutt.
Han Solo In Carbonite is the seventh statue in Bounty Hunter 1:8th Collector's Gallery line celebrating over 40 years of the Star Wars universe. This accurate sculpture comes from scans of the actual carbonite block prop for the ultimate attention to detail. The Han Solo's frozen, pained expression is perfectly captured in this carbonite block, with a base that matches the alcove where the frozen Han Solo hung as a prized possession in the Mighty Jabba's palace. Bring Han home and he can be a prize in your collection too. Pre-Order now to complete your 1:8th scale bounty hunter collection, have as a stand-alone piece or make sure your Boba Fett collector's gallery statue is not lonely. Each limited edition, hand-painted piece is cast in high quality polyresin with crisp details. This statue comes individually numbered with a matching Certificate of Authenticity.
Porg Bookends
A Porg is a small, flat-muzzled avian that likes to flock about the rocks and roosts in cliffs of secluded areas. In the latest set of sculptural bookends from Gentle Giant Ltd., we see two adorable, inquisitive Porgs down in the lowlands of the hidden island of Ahch-To. They have happened upon Luke Skywalker's recently discarded lightsaber and do not know what to make of it. These two innocent Porgs are clueless that they are residing in an unknown region of the galaxy where the Jedi Order was founded, they just know there is something shiny there that wasn't there before. They have no idea they are at the crossroads with the last of the Jedi Knights…
Crafted using only the highest quality Polystone, each Porg bookend is weighted to grip and keep your books upright and in pristine condition. The Star Wars: The Last Jedi Porg Bookends are perfect for holding comics, graphic novels, books, DVDs, video games or ancient, discarded Jedi texts. Every feather, every rock and every glassy, soulful eye has been painstakingly sculpted by the artisans at Gentle Giant Ltd. Each bookend comes with an optional bookend extender for holding taller items. Each limited-edition hand-painted bookend set comes individually numbered and is packed with a matching Certificate of Authenticity.