YN 11 Year – Prize Bundle #4 – Gentle Giant Goodies!
on
February 13, 2015
at
12:01 am
We will be pretty busy at NYTF the next 4 days, so this is another easy one to enter!  The winner of this bundle will get a  Dengar Jumbo 12″ Kenner Figure, a Yoda Ilum statue and a SDCC 2013 exclusive Boba Fett Deluxe mini bust!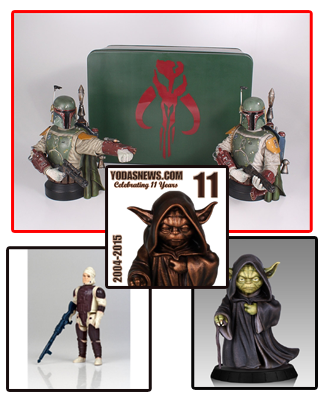 Once we get back home, we have over 150 prizes still left and we will hold our usual Trivia Nights and Scavenger Hunts for some more great prizes, but this one starts now (2/13) and ends on 2/17/2015 at 11:59pm EST.
Just send us an e-mail to YodasnewsAnniversary@gmail.com with the subject "Gentle Giant Goodies" and we will pick one person at random to take home the prize pack! This is open ONLY TO USA SHIPPING ADDRESSES.
You must make the subject "Gentle Giant Goodies" (quotes or no quotes does not matter) and you must include your full shipping address, incomplete or incorrect entries won't count.  Please be sure to read the terms and conditions of entering this giveaway at the bottom of this page
THANK YOU for letting us bring the news to you for the last 11 years!