This idea was sent in by a reader back in 2010 and we did it again for our 12th and 13th Anniversary, and it's always fun and has a great response! It won't be for everyone, but it will be fun for those who choose to take part.
The first thing you need to do is print out the main 14 year logo below, you will need to include this in ALL photos to verify they are your photos and taken for this giveaway. On most computers you can simply right click and print it, you can also click here for the URL to just the image for those printing from a mobile phone or device.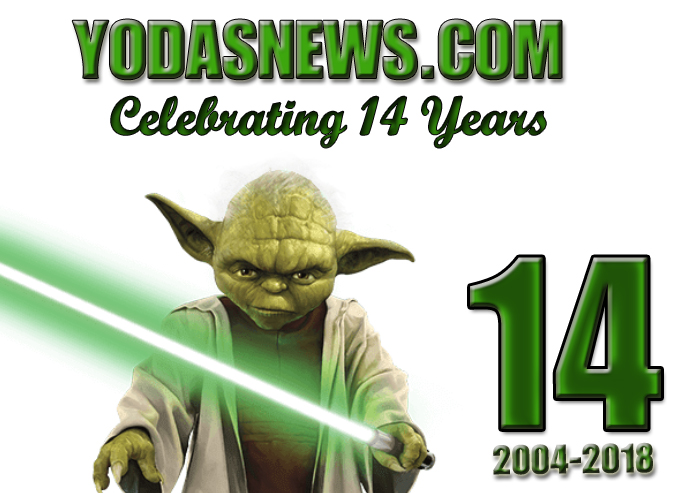 Okay, now look at the list of 14 obscure items below. Find each of the items you need, gather what is needed or go to a location, place the logo you printed out in front of them and take a picture. Once you have all 14 done, email the images to us at YodasnewsAnniversary@gmail.com with the subject "14 Year Hunt" – We WILL be sharing some of the pictures online and on social media, so make sure what is in your photos is okay for the public to see.
THE LIST
1) Create your own Happy 14th Anniversary message (can be a sign, a drawing, a sculpture, anything you want)
2) A Star Wars branded grocery item
3) Something Fuzzy
4) Picture of a store Star Wars display
5) Star Wars figure or item in a fridge or freezer
6) Something Green
7) Store receipt with an "embarrassing or funny" item on it
8) Picture of how you browse Yodasnews.com
9) A receipt, food order, sign, address, subway train number, flight, etc…showing 1138
10) Sign or Product with something spelled incorrectly
11) You in a store/mall/shopping center or someplace historic with something Star Wars on (Shirt, Hat, Holding a figure, etc…)
12) In front of a The Last Jedi or SOLO Movie Poster
13) 14 Identical Items (14 dollar bills, 14 paper clips, 14 cans of soda. etc…)
14) Outside a Fast Food or Convenience Store
There will be TWO Winners (and it is possible for the same person to win both).

The Early Bird Prize – The first person that sends in all 14 photos that are in the proper format wins a $40 Gift Card to BBTS, they are still eligible for the grand prize. We will be sharing all 14 images from the Early Bird winner, this will help others to see how it's done! You can also click here to see the 2016 Early Bird winners images and here for the 2017 Winner (he won both the Early Bird and Grand prize)
Grand Prize (25 total items) – 1 Astromech Droids 3 3/4-Inch Action Figures Set (Entertainment Earth Exclusive), 10 Random 3 3/4″ Hasbro Action Figures from multiple lines, 2 Marvel 2015 Star Wars #1 Hasbro Toyfair Previews Exclusive Cover, 1 R2-ME2 A Sideshow Exhibition Book, 10 Topps Yoda Connexions 1st Edition chips and 1 Acme Archives Star Wars Clone Wars Asajj Ventress Character Key
We will pick one random person from all the people who find all items or locations and send in 14 correct photos (early bird winner is eligible and part of the random pool the grand prize will be selected from). You must send in all your pictures before 11:59pm EST on 2/7/18.The random winner will get all 25 items listed above under Grand Prize.
Recap, you need to send 14 unique pictures and each one must include the logo above and be an actual picture – no google images or Photoshop is allowed. Have Fun and always be SAFE when taking your images! As with all our giveaways, please click here to read the Terms and Conditions of entering our giveaways, that are located at the bottom of that page.