ASK JAKKS – May 2015
on
May 1, 2015
at
9:25 pm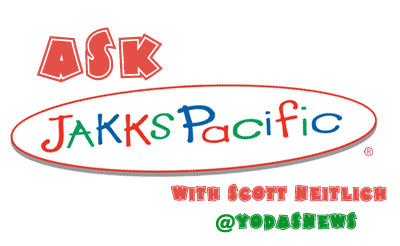 Scott Neitlich is the new Director of Action Figure and Collector product at JAKKS Pacific.  Last month, he reached out to select Star Wars sites and gave us the opportunity to participate in an Q&A Monthly session called ASK JAKKS, here is our first segment.  Enjoy, and if you have a question you want us to ask Scott, let us know!
Chris from YN: Do you have any plans for other Star Wars product lines besides the various action figures and flash lights so far?  Anything that you can share with us?
Scott: At this time our Star Wars focus in on our Big Figs lines which includes 20" (18"), 31" and 48" figures as well as the Flashlights. We do have some amazing expansions of our Big Fig lines and you can look for more details at the summer conventions this year!
C: With the various size action figures we are getting the Original Trilogy, Prequel Trilogy, Star Wars Rebels, and the EU so far. With such a variety on so few figures so far, how are you choosing who to make? Do you have a specific focus?
S: For retail releases in Star Wars we tend to focus on the most well known characters that will appeal to moms/dad and their kids, like Scout Troopers, Darth Vader, Ezra, Chewbacca and Boba Fett. For collector specific executions we hope to dig a little deeper in the character selection as well as offer more detail and accessories. We hope to have more news about collector specific Star Wars figures later this year!
C: We know there will be The Force Awakens product coming, can you tell us when we will start seeing those?
S: Sorry but we cannot comment on Episode 7 product at this time.