Gentle Giant Early Bird 4-Pack Kenner Jumbo Set and Bossk Collector's Gallery Statue Pre-Order
on
July 28, 2017
at
11:44 am
40 years ago a generation of kids saw a movie that changed their lives. When they left the theater and went to the store to find action figures from their favorite new movie they did not exist. When the holidays rolled around and the kids wanted to find their favorite heroes, villains and droids under the tree, none could be found. The toy makers solution to this problem was "The Star Wars Early Bird Kit." Parents, desperate for anything Star Wars to wrap for their kids, were sold a large cardboard envelope that had a fold out stand, some stickers, trading cards and a promise that WHEN the figures were made, they would be the first kids to receive them.
Gentle Giant Ltd pays tribute to that classic Star Wars story 40 years later with the Star Wars JUMBO Early Bird 4-pack. This 4 pack of action figure is a great jumping on point to the Jumbo line for new collectors as well as bringing back some earlier, harder to find figures for current Jumbo connoisseurs.
The Early Bird Jumbo figure 4-pack will come in a retro box mimicking the original Early Bird envelope, inside will be the familiar white mailer tray with Luke Skywalker (with his double telescoping lightsaber. The first DT saber in the Jumbo line!), Princess Leia (with white vinyl cape and blue blaster) Chewbacca (with greenish Early Bird crossbow blaster) and R2-D2 (with clicking head). Also included in the set will be larger reproductions of the stickers and a large foldout, replica display stand that will hold the "original 12" figures along with the perforated cards attached to the front.
Gentle Giant Ltd's Jumbo line. Just like you remember, ONLY BIGGER!
2017 PREMIER GUILD MEMBERS – If you pre-order the Jumbo Early Bird Set between now and August 11th and you can get this set for the special Early Bird price of only $230! Don't miss out on this amazing price on this classic set!
Click below to pre-order now!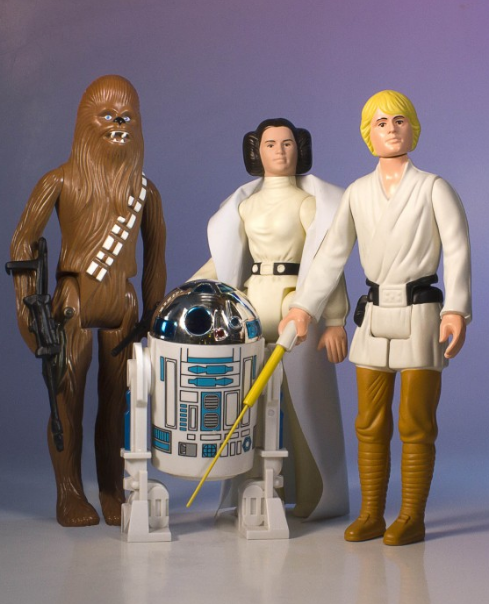 The bounty hunter known as Bossk has been a fan favorite ever since his debut in 1980. His popularity could not be contained to his brief appearance on the deck of the Executor in the Empire Strikes Back (and in the background of Jabba's sail barge in Return of the Jedi). Bossk soon started filling out his robust backstory in both the Star Wars: Clone Wars and Star Wars: Rebels animated series, taking on the role of mentor to the young, orphaned Boba Fett.
The artists a Gentle Giant take you on a journey to see the moments just following the events of the death of Jabba, we find Bossk standing over the shattered throne of Jabba. At his feet, a chain left by Jabba's escaped prize. What will he do next? Pursue the rebels or look for his next bounty?
Bossk is the third statue in our new 1:8th Collector's Gallery line, celebrating 40 years of the Star Wars universe. Each limited edition, hand-painted piece is cast in high quality polyresin with crisp details. This statue also comes individually numbered with a matching certificate of authenticity.
Click below to pre-order now!