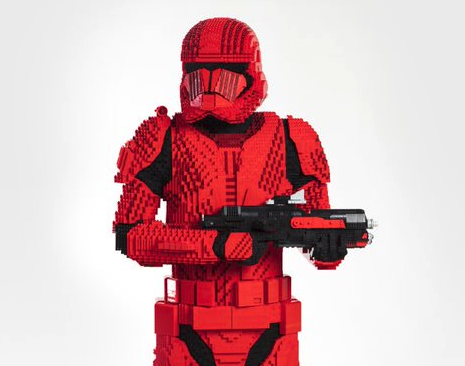 COMIC-CON INTERNATIONAL: SAN DIEGO (July 17, 2019) – LEGO Systems, Inc. highlights classic characters and beloved properties while inviting attendees to imagine new ones at this year's Comic-Con International: San Diego (SDCC), the world's largest comic and entertainment convention. Fans can build their own comic book, and custom LEGO minifigure photo stations invite fans to express their LEGO creativity. The company will also showcase new building sets and offer exclusive SDCC retail sets and LEGO minifigure giveaways. LEGO® Master Builders have created three new show-stopping large-scale LEGO brick models of iconic Star Wars™, MARVEL® and DC™ characters that will border the activities at booth #2829 in Hall D at the San Diego Convention Center, July 17-21.
"For years we've been helping fans celebrate their passion for the characters, vehicles and worlds of the biggest pop culture and entertainment properties through LEGO bricks and minifigures," said Amanda Madore, senior brand relations manager, LEGO Systems, Inc. "We're excited to debut interactive experiences that let Comic-Con attendees further personalize those passions as well as to connect socially with fans around the world who aren't able to make it to the show floor."
LEGO® Star Wars™
LEGO Star Wars is celebrating 20 years since the property debuted with LEGO by showcasing classic and upcoming elements of the saga in brick-form at SDCC. With anticipation for Star Wars: The Rise of Skywalker building, a life-size LEGO look at an upcoming character from the film – a Sith trooper™ –will be displayed at the LEGO booth. LEGO Master Builders used 34,307 bricks and spent 259 hours designing and building the six-foot-two model. Attendees can take a piece of the dark side home with a show-exclusive collectible LEGO Star Wars Sith Trooper Bust building set, available for purchase for select attendees who register on Comic-Con's Exclusives Portal in advance of the Con.
A disturbance in the Force has also allowed two never-before-seen LEGO Star Wars sets, Obi-Wan's Hut and Luke Skywalker's Landspeeder™, based on iconic scenes from Star Wars: A New Hope, to be displayed in the LEGO booth, long before they become available in January 2020 for $29.99 each.
LEGO Minifigure Giveaway Details
To secure an opportunity to receive an exclusive LEGO minifigure giveaway, show attendees must visit the Sails Pavilion beginning at 9:30am each day to enter an instant drawing giveaway, to be fulfilled on the spot while supplies last. One drawing per person per day.
Thursday, July 18: PS4 Spider-Man minifigure
Saturday, July 20: Zebra Batman minifigure
LEGO Panel
On Saturday, July 20 at 11:15am in Room 6A, the first-ever cross franchise LEGO panel will be presented to fans and show attendees. Panelists will discuss current and upcoming LEGO branded content, including the stories behind the content development, and will debut never-before-seen footage of upcoming content.
Fans who are not attending SDCC can follow @LEGO_Group on Twitter and watch for opportunities to win the 2019 San Diego Comic-Con Exclusives throughout the four-day show.