With Halloween, as well as the 1st Anniversary of The Force Awakens coming up in a few months, we wanted to take a look back and review some of our favorite items, that you may want to pick up before they are all gone.  The first item we are looking at is, Kylo Ren Force FX Deluxe Lightsaber Prop Replica from Hasbro.  We received ours from EntertainmentEarth.com,  where is it currently in stock for $199.99 with Free Shipping! The box is HUGH so the Free Shipping is a great savings, you can click here to secure one today.

Let's start off with the specs:
Measures 43-inches long
14-inches wide
Requires 3 "AA" batteries, not included.
Ages 13 and up.
Now let's take a look at the outer box, it's beautiful on it's own.  It has the same look and feel as the other Black Series items. If I had the room I would display the box with  the saber, I like it that much.

It is packed very well and secure, the stand (which can be displayed in two ways) is under the front part of the saber blade.
Here are the 2 possible ways to display it on the stand.  The first is to put the blade into the hole and then balance out the weight of the hilt to the blade to where it stays level.  It's a very cool way to display but not if you have a lot of foot traffic near it, as it could knock over easily.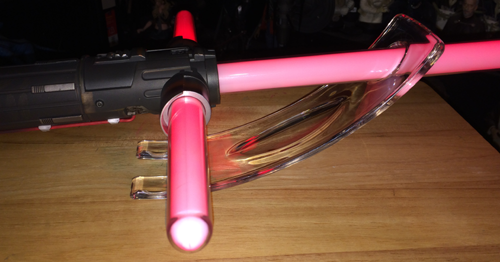 The second way to display it is to flip the stand over and the hilt sits in the recessed area. To me, having both options was a great design by Hasbro, and of course many people will also choose to hang this on the wall, with multiple secondary market stands and holders available.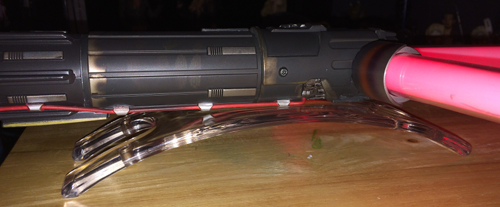 The hilt is heavy and very detailed, the weathering in spots is good and the red wire down the side is actually a wire, which was a nice touch. Some of the orange and purple paint looks odd in the photos, but in person they blend in very nicely.  The sounds are crisp, clean and loud!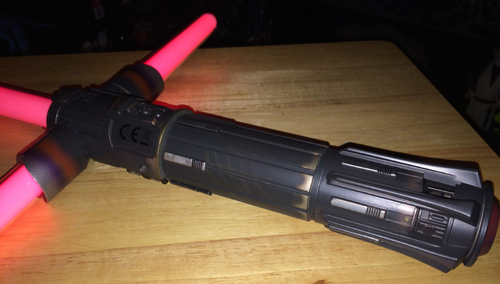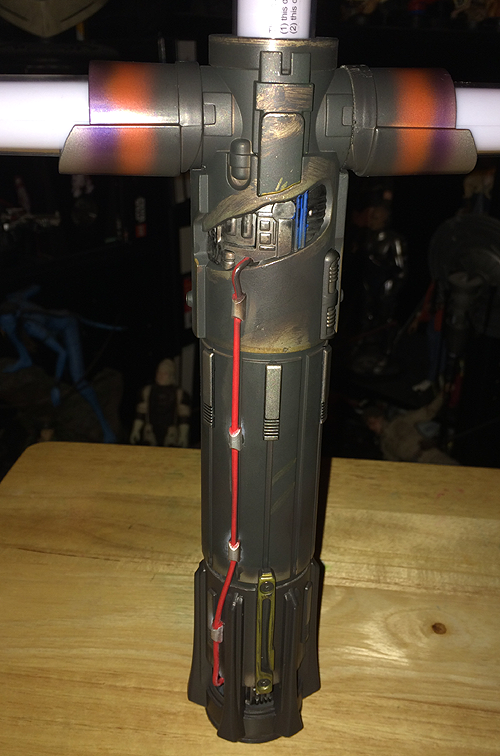 It glows very bright and unlike some older versions of these where you could see breaks, this one is clean top to bottom. This is a beautiful piece to use as a prop replica, for fun or to complete your Kylo Ren Cosplay or Halloween costume.  Kylo will forever be embedded in the history of Star Wars and I think this FX saber will only go up in value as time goes on.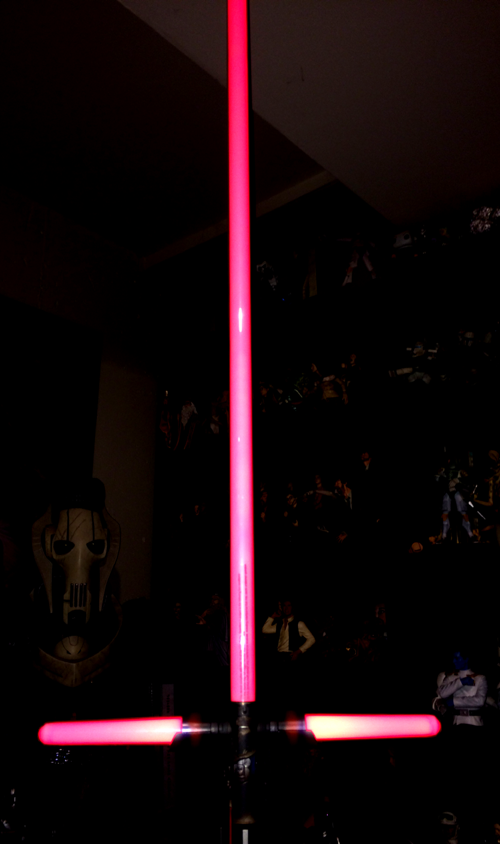 It's also, the perfect companion to the Star Wars: The Force Awakens Kylo Ren Voice Changer Helmet The Black Series Prop Replica, sold separately. We will be reviewing the that helmet next week!
Be sure to check out EntertainmentEarth.com for this and other great collectibles and Halloween Costume ideas!