ROGUE ONE VUDU VIEWING PARTY 3/24 & 10 DIGITAL COPIES GIVEAWAY INFO!
on
March 19, 2017
at
11:30 am

Vudu is preparing to once again go back to a long time ago and visit a galaxy far, far away with the digital release of Rogue One: A Star Wars Story! Part of this preparation is seeking out the most Rebellious fans the World Wide Web has to offer. We're reaching out in hopes that you, the fans, can help us blow out the digital release of Rogue One: A Star Wars Story! The newest entry in the Star Wars saga invades Vudu on Friday 3/24.
Yodasnews has teamed up with Vudu to promote the #VUDUviewingparty on 3/24. During this event, VUDU fans, rebels and imperial sympathizers alike will be syncing their screenings of Rogue One: A Star Wars Story and engaging in online banter, reactions and trivia contests for the duration of the movie. It's fun, it's fast, and it's an experience you won't soon forget. We've intercepted coded transmissions and curated a selection of prizes that are absolutely out of this world! During the course of the event we will be giving away several Star Wars collectibles, a RCA tablet, a PS4 bundle (including Star Wars Battlefront), and a 32" TCL LED TV!

Another great prize opportunity comes in the form of the Rogue One trivia contest! Fans who answer at least six questions correctly will be entered into a random drawing. One grand prize winner will receive a precision cast Darth Vader helmet replica and a Rogue One: A Star Wars Story prize pack! One first place winner will receive a limited edition Jyn Erso statue (only 500 made!), and a Rogue One: A Star Wars Story prize pack. Five second place winners will receive Rogue One: A Star Wars Story prize packs! (Prize packs include drawstring backpacks, messenger bags, keychains, hoodies, t-shirts, hats, coffee mugs and notebooks) – The Trivia is LIVE NOW – Click Here to Enter!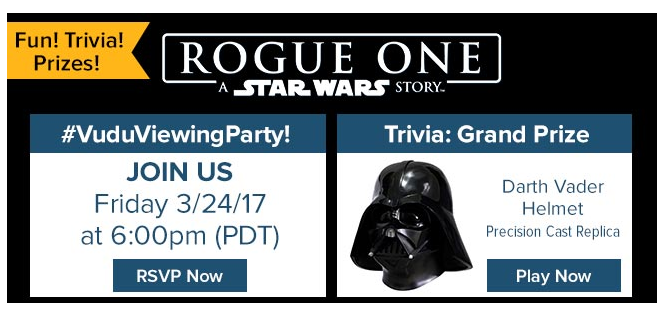 Here are some links you will want to check out:
• Purchase page for Rogue One: A Star Wars Story (Pre-order now, available to watch 3/24)
• RSVP to the #VUDUviewingparty (occurs 3/24, additional details about event found here)
• Rogue One: A Star Wars Story Trivia Contest – http://woobox.com/ozu4bu
And we have 10 Digital Copies to giveaway to our readers! These codes can be redeemed at www.vudu.com/digitalcopy at any time. A credit card may be required to complete account setup but users will only be charged for additional content they rent or purchase. There will be no charge associated with redemption of your free copy of Rogue One: A Star Wars Story. Vudu is a US only service so this is only open to readers in the US.
We will start by giving away TWO COPIES on Monday 3/20/2017!