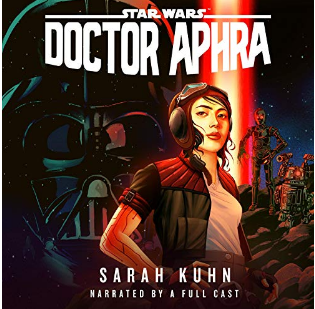 Star Wars: Dr. Aphra is the newest audiobook-only addition to the Star Wars Canon Universe. The story loosely follows the popular Comic series that was released in December, 2016. Up until now, Doctor Cheli Lona Aphra was only known to the most studious Star Wars fans that followed the previously-mentioned comic series. The character was well-received enough to move to the next level of Star Wars fandom by being canonized in novel form.
The story is set sometime soon after the destruction of the first Death Star. Cheli Aphra personally narrates her life story, which is fraught with adventure, passion, risk taking and close interactions with many of our favorite Star Wars characters. Through a string of exciting events, Dr. Aphra becomes a personal attache to none other than Darth Vader. But she quickly learns that this is a very precarious position to fill while remaining alive. Dr. Aphra must fulfill her new master's bidding, doing everything possible to continually prove her value to him to avoid the fate of those that fail him.
Dr. Aphra is a fantastic, fresh addition to the list of most interesting Star Wars characters. Combine the resourcefulness of Indiana Jones, the ingenuity and confidence of Tony Stark, and the crassness of Deadpool and you get Cheli Lona Aphra. She is exactly the type of character that you are able to cautiously love, slightly despise, and secretly envy all at the same time.
As an audio-only production, the creators went to great lengths to present a full cast of voice actors, and an engaging audio production. The novel jumps around a bit in chronology, which actually really helps keep the listener engaged and interested as the story pieces itself together. Because the story is narrated solely from the perspective of Dr. Aphra herself, it is quite entertaining to listen to her character's commentary about some of the other heroes we are all familiar with. But, because Aphra could easily be categorized as somewhat neurotic and narcissistic, sometimes her self-praise gets a bit much.
Overall, this audio production was very well done and definitely adds a unique and interesting perspective to the Star Wars universe. I definitely recommend it for all types of fans. It requires no additional knowledge of the comic series, or really any other background other than the original trilogy, so it's appropriate for all types of fans. Get a copy and give it a listen, you won't regret it!
We want to thank Random House Audio for providing this sample for review, you can grab this right now at this link or click below! Out Now!