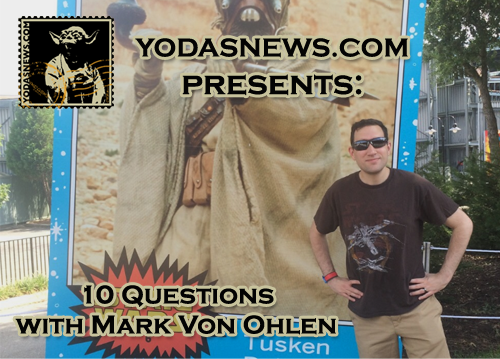 Mark P: First up, for those who may not know all that you do, you are the Brand Manager of Entertainment for a ton of awesome properties (Star Wars, Doctor Who, WWE, GPK, Mars Attacks, Walking Dead, and more) at Topps. How did you get started at Topps and get what most of us would call a dream job?
Mark: I'm incredibly fortunate to have a job that I really love. I started with Topps about a year and a half ago because I wanted to work on products that I was really passionate about. I'm a collector and a geek and have tons of action figures and trading cards in my personal collection. While I've spent a decade in marketing, primarily at Kraft/Nabisco working on snacks, I was ready for a change and found this position at Topps to be the perfect blending of my marketing skills and passion for all things geeky. I have a terrific portfolio already with Star Wars, Doctor Who, WWE, GPK, Wacky Packages, Mars Attacks, The Walking Dead, and Preacher, plus we're always looking for new licenses and will have more to be announced before the end of the year!
MP: So from what I've seen, we have TFA Chrome next month (August); Rogue One Mission Briefing and 3D Widevision AOTC in October, followed up by Masterwork and SWCT in November and we finish out the year with High Tek & Rogue One Series 1 in December. 7 sets in 6 months, do you ever sleep?
MVO: That's just the Star Wars calendar! We have almost 40 Entertainment products planned for 2016 across all our properties. Plus we have the new Topps Now program that just launched with Preacher and will be extending out into other brands before the end of the year. Then there are the conventions – we have oversized exclusive cards for Star Wars Celebration; oversized cards for Star Wars, Doctor Who, GPK and Wacky plus Preacher promo cards at SDCC and even more planned for NYCC. And in my personal time I'm consistently on the convention circuit meeting fans, artists, and actors. I go to about a dozen shows a year on top of the ones Topps sponsors so there's never really a break for me, but that's the way I like it.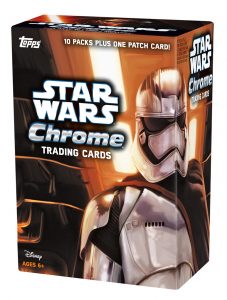 MP: Of those 7 sets, which one are you most excited about?
MVO: All of them are special for different reasons. Rogue One: Mission Briefing has the most eclectic autograph list we've ever done with a dozen new signers so that will be really fun. And fans can expect a fantastic autograph list with new signers for Masterwork and High Tek as well. But SWCT is the dark horse for 2016 product of the year. It's going to be really fun with $2 packs with digital unlocks in every pack to get you exclusive cards in the SWCT app.
MP: Being such a fan of the properties as well as it being your 9-5 job, how hard is it to keep quiet when you know what 99.9% of population does not?
MVO: As a licensee we have lots of information and imagery before it goes public but it's our responsibility to be good partners and protect that information to make sure we're not releasing anything earlier than Lucasfilm intends to. My inner nerd is always very excited about learning the secrets ahead of time, but in full disclosure we don't know everything before the film comes out so there are even surprises for us.
MP:  Collectors and kids have really latched on to Star Wars Galactic Connexions, what can we expect to see in the future?
MVO: Launching Galactic Connexions is something I'm incredibly proud of. It was one of my first projects at Topps and I can't believe we're now on Series 3! And in two aisles of Walmart – the card & collectable aisle plus the Toy Aisle. We've also had some incredible partners over the past year and a half – EA Battlefront, Subway, Hallmark cards, the soundtrack to TFA, and the Lego Star Wars video game. We can't reveal much about what's coming during the back half of this year yet but we have some interesting plans in the work including giveaways and a new sku coming in 2017. If you're going to be at either Star Wars Celebration or SDCC, we'll also have giveaways there as well.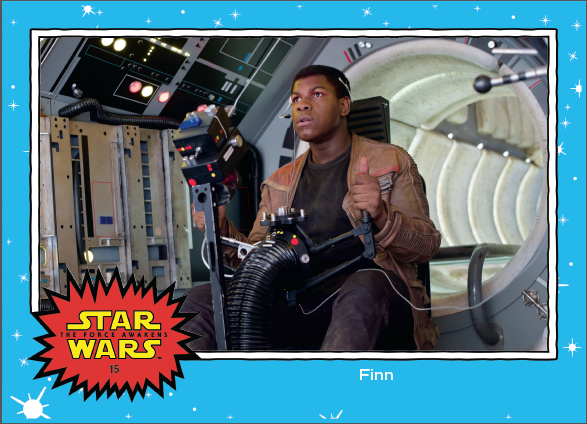 MP: You've had 100's of signers come in the office over the years, and you share some great pics all the time on Twitter (follow Mark @DarthVonOhlen) – If you had to pick just 1 from the Star Wars world that really just made your week, who was it?
MVO: This is a tough one and I honestly can't pick a favorite. This past year alone I racked up some great stories – I met Ashley Eckstein & Vanessa Marshall at Disney Star Wars Weekends 2015; I pretty much spent all of Rhode Island Comic Con hanging out with Daniel Logan, which BTW he is the most popular person at ANY party so that was a blast; I had an amazing dinner in Rhode Island with Erik Bauersfeld, Tim Rose, Daniel Logan and Jerome Blake; we had Taylor Gray and John Morton come to the Topps office for interview and autograph signing; I've met Ray Park at a few different conventions and he loves the Galactic Connexions discs so we sent him a bunch; and just last month I met Matthew Wood and he was nice enough to come to our office to sign autographs and then I went to his friend's apartment in the city for a rooftop barbeque. It was surreal. Bonus item – the incredible Russell Tovey came to the office to sign autographs for our Doctor Who cards after I met him after his Broadway show A View From The Bridge. He's my #1 pick to be the next Doctor.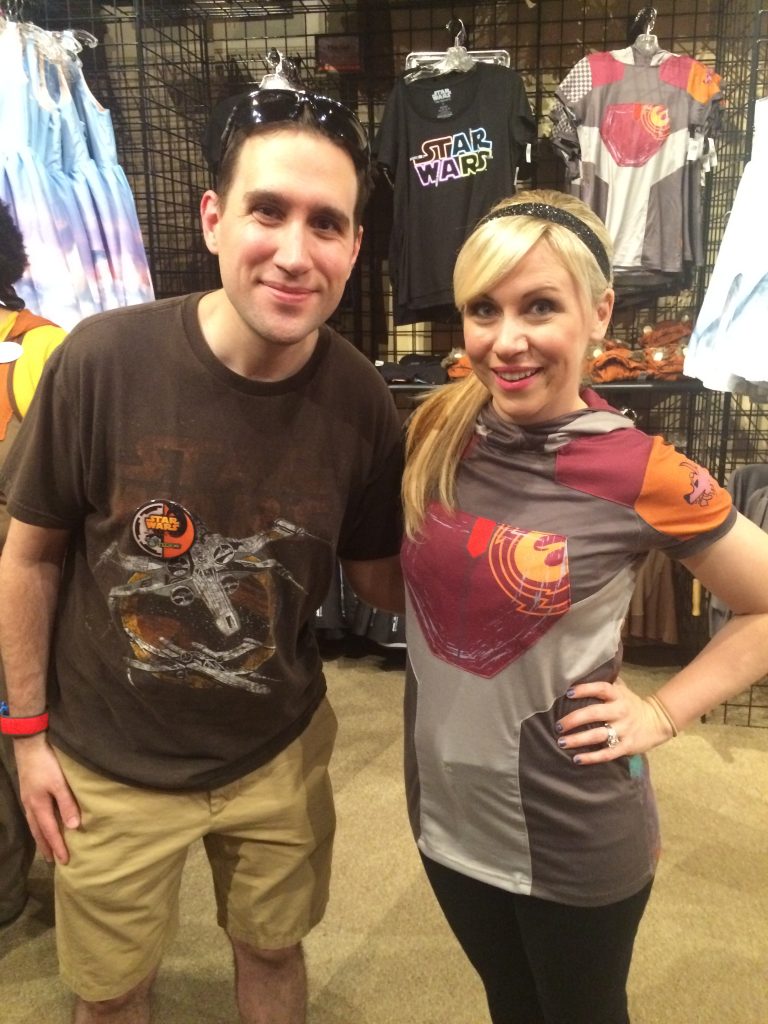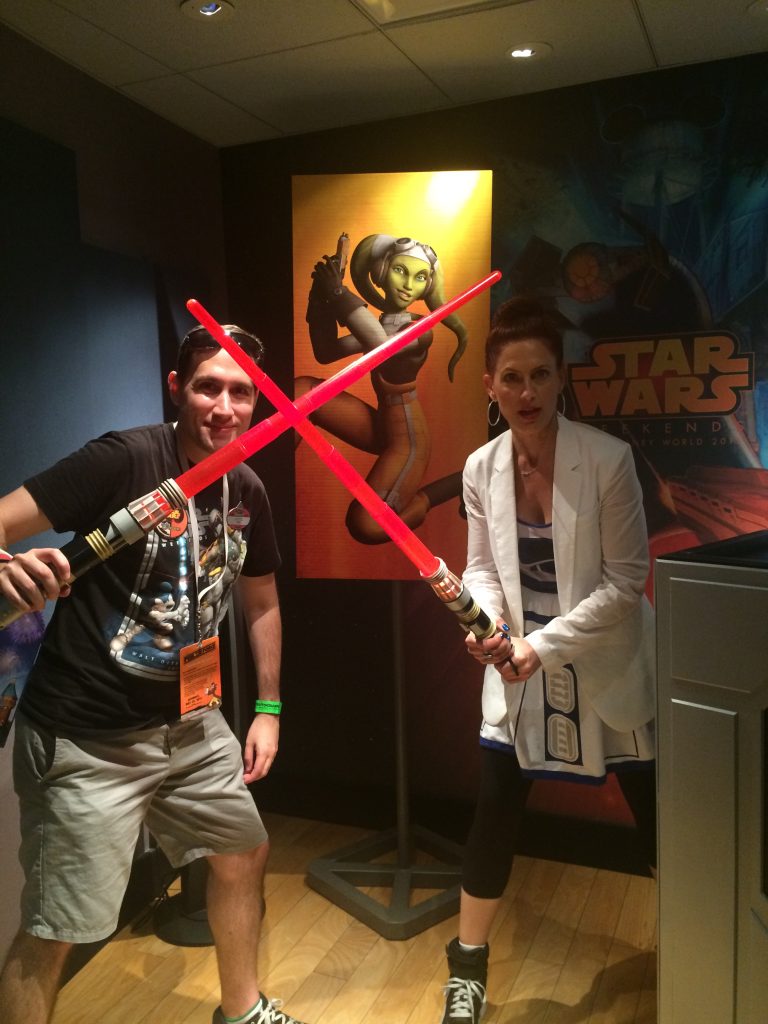 MP:  Do you know if anyone pulled a John Boyega autograph from Topps Star Wars Evolution yet?
MVO: Yes – I've seen a few on eBay. We had him do a special signing and even got him to sign some Evolution base cards. There's actually more to this story but we can't announce the surprise just yet. But I promise we'll send you the info as soon as we go public.
MP: Will you guys every sell those oversized signed cards (like the one from Matthew Wood) or are they just for prizes? I want one!
MVO: Aren't those fun?! Fans can expect that I continue to stalk, I mean MEET, more celebrities from Star Wars and Doctor Who, I will be asking them to sign some of these special items for giveaways. We don't plan to sell anything like this at the moment, but believe me, more are coming in the giveaway / prize bucket. We still have the Russell Tovey signed poster from Doctor Who Timeless and another Matthew Wood signed poster for Masterwork coming. We're hoping to have at least one for each upcoming set.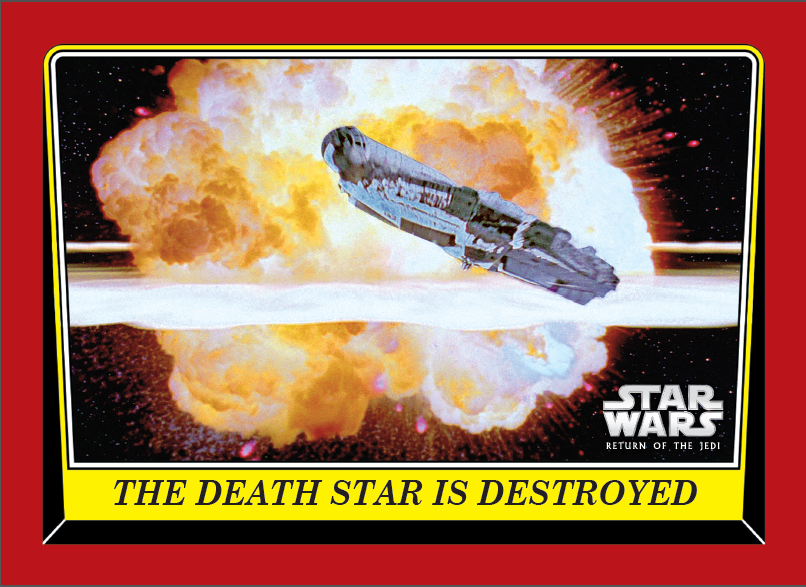 MP:  We always like to ask this one, rank them! And you know what we mean!
MVO: I feel like this will be the thing that gets me in trouble.
Return Of The Jedi
The Force Awakens
A New Hope
Empire Strikes Back
Rebels
Clone Wars
Revenge Of The Sith
Attack Of The Clones
Phantom Menace
Holiday Special 😉
MP: I know Topps will be at Star Wars Celebration and SDCC this year. What do you guys have planned?
MVO: These shows are going to be so much fun! Our UK team is handling our activation at Star Wars Celebration and they have quite a bit planned. We have 7 oversized trading card sets – one from each film – with 10 cards each for $20 per set. We also have giveaways, we have a special surprise guest coming to the booth for photo ops and more to be announced! Follow our social handles – www.Facebook.com/MyTopps and Twitter @MyTopps for the UK team for all things Celebration. You can find us Booth N403.
For SDCC, we are thrilled to be returning to the Lucasfilm pavilion after a very successful adventure there last year! We'll have 5 oversized card sets, all themed from The Force Awakens, plus giveaways of Galactic Connexions discs and photo ops with the 14kt gold disc! Topps will also have exclusive Doctor Who products at the BBC booth, GPK and Wacky Packages exclusives for sale at yet another booth, Preacher promo cards at the DC Comics booth and we're participating in a 'Fear The Walking Dead' experience you'll have to see to believe! Be sure to follow www.Facebook.com/OfficialToppsStarWars & www.Facebook.com/Topps & www.facebook.com/RealToppsEntertainment plus Twitter @Topps and @DarthVonOhlen for all your SDCC info!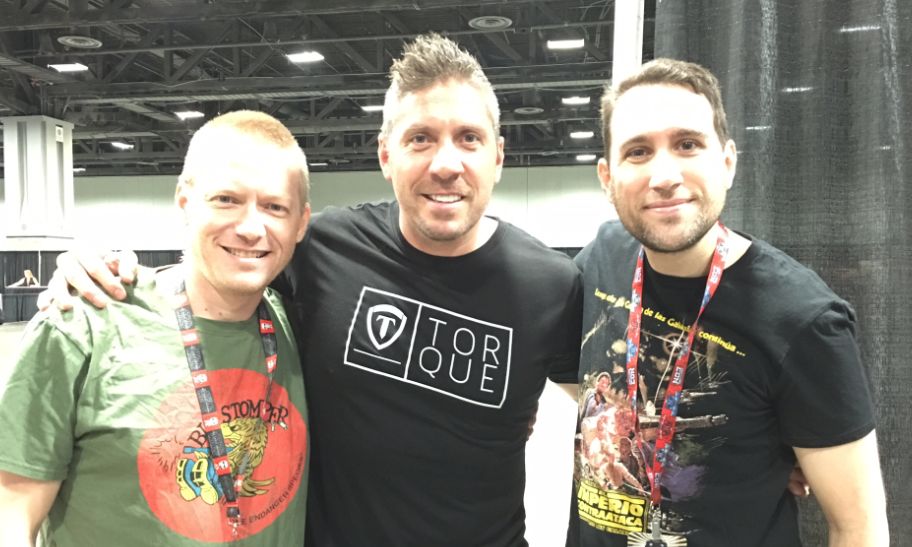 A huge thank you goes out to Mark for taking the time to chat with us. It was a blast!