on
September 24, 2018
at
7:30 am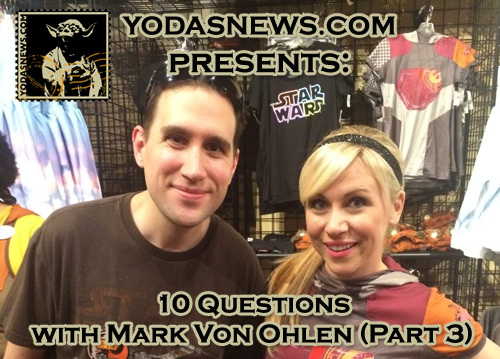 Yodasnews: Thank you again for taking the time to speak with us! Last time we did a QnA with you was back in February (check that out at this link), so much has gone on with Star Wars Authentics in the last 7 months, we figured it was time to catch up again. Let's start with how many new photographs have been added, there has been over 1,000 new options added, let us know a little bit more about how you guys got so many great options added from across the galaxy?
Mark Von Ohlen: Thanks for having me back! You know I'm a huge fan of your site. It's been a fantastic year for Star Wars Authentics with tons of new official photos added to the site, new autograph signers added and even new autographed Funko Pop items! This year we introduced several new autograph signers with Sam Witwer, the voice of Maul, being our latest addition along with Paul Bettany, the lead villain in Solo and Ben Mendelsohn, the lead villain in Rogue One so it's been a particularly good time to be evil. We also added over 1,300 new official photos in the last 12 weeks. We received feedback from our customers on specifically what photos they were looking for and we started to hunt that down. We then made sure each movie and TV show was represented. And we have more additions coming before the year is up!
Q: That is great! Solo comes out on Blu and DVD in a few days, what does SWA have for customers now from Solo, and what can we expect to see in the future from Solo?
A: We're so excited to see Solo out on home video. This means we can finally share lots of images from the movie that we couldn't include in our first drop. We added over 100 new official photos to the site including our first images of Maul, Enfys Nest unmasked, Rio Durant and lots of new scenes. Here is a direct link to see the whole collection!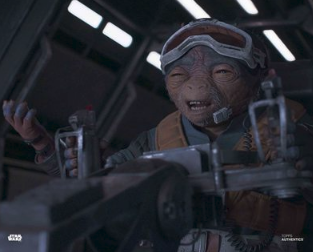 Q: How was it working with Sam Witwer, the voice of Maul from Solo?
A: Sam Witwer is spectacular and has been a signer for Topps for the past few years. We even had the pleasure of bringing him to Star Wars Celebration last year. He's a great ambassador for the property as well as being an insanely knowledgeable walking encyclopedia of Star Wars facts and trivia. Getting him to sign as Maul from Solo was such a treat. His contributions to the character can't be overstated as his stellar voice work made Maul so beloved by the fans in The Clone Wars and Rebels. Aside from getting Sam to sign as Maul from Solo, we also had him sign images of Maul from The Clone Wars and Rebels plus photos of his character The Mortis Son, which is one of my favorites. You can see all his signed merchandise here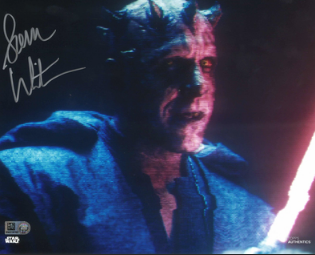 Q: You already have Ray Park on the site, any plans to get us some dual signed Sam Witwer and Ray Park?
A: Ray Park has been signing for Topps for a long time as well and we recently did a card signing with him (before Solo came out) to make sure we got him in our latest releases including Star Wars Archives Signature Series, Masterwork 2018, and Stellar Signatures 2018. We definitely need to get Ray to co-sign some of the photos that Sam signed so we have a proper dual auto for sale on the site. We don't have a date set for another signing at the moment but you can purchase his current autographs on the site here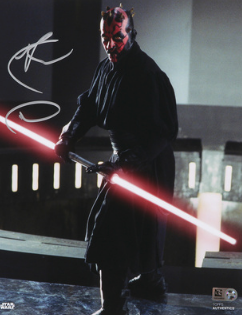 Q: Any updates on the SW Celebration Autograph Pavilion for 2019?
A: We have a lot going on in the background for Star Wars Celebration 2019. We can't reveal any details just yet but know that we are working hard to make sure the 2019 guest list is just as good as last year's. You can expect guest reveals to occur on the official Star Wars channels or from the Topps Facebook page (www.Facebook.com/Topps) so unless you hear it there, assume it's a rumor.
Q: The new additions of vehicles and battle scenes have been great, will you continue to add more of those to the site? Maybe even some signed combo pieces?
A: More vehicles, battle scenes and locations are coming soon. Over the past 12 weeks we have added over 1,300 new official photos to the site. Our top priority was to make sure all the movies were represented so we went back and added photos from the classic films and the prequels followed by images from The Clone Wars and Rebels. We prioritized main cast characters and major scenes. Also keeping up with what's new and recent we had to get Solo up for the home video release and then we'll go back and add more pics from Rogue One. We'll also have some Forces of Destiny and eventually photos from the new series Star Wars Resistance.
Q: POP! Collectors loved seeing the Kylo offered with the exclusive card, are you just testing the waters to see if people want the signed POPs from SWA, or are you planning to offer more in the future?
A: The Adam Driver autographed Funko Pops are very much a test to see what people like. We kept the number available pretty small with just 48 total available. We also really wanted them to feel special and unique to Star Wars Authentics. Aside from the Authentics hologram, which guarantees the authenticity, each autographed Funko Pop is stored in a hard plastic protective case made by Funko. We also included a sequentially numbered Topps Funko Star Wars trading card that you can only get with the Funko figure. If consumers like these offerings, we may try some more or even expand into other autographed licensed products.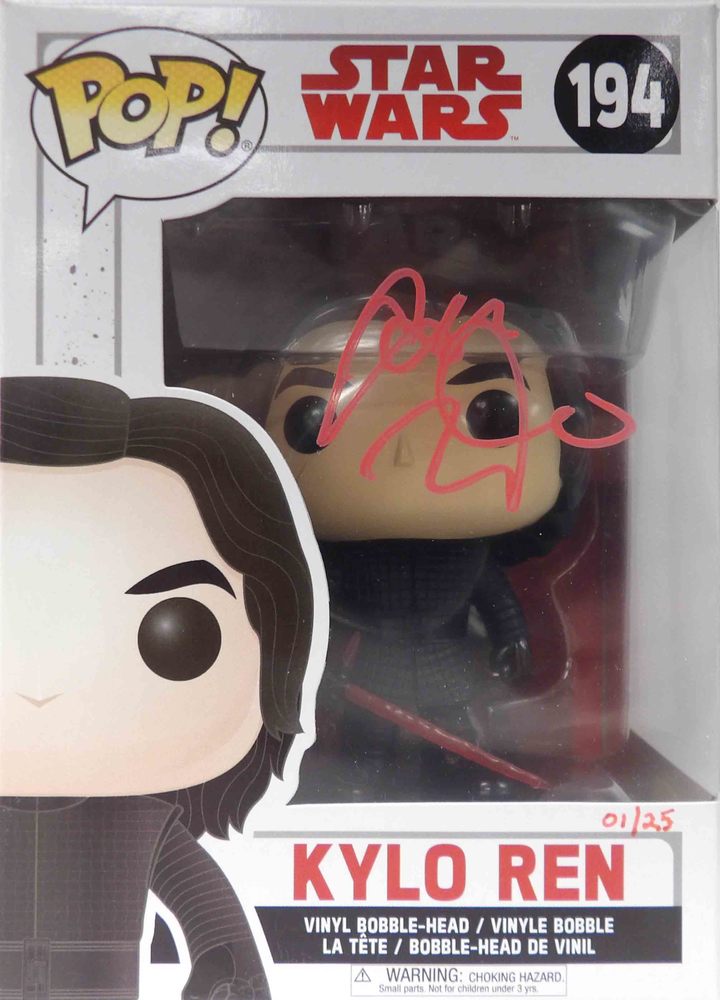 Q: We heard Forces of Destiny images are coming, do you plan to also offer autographs from the voice cast, or just images at this point?
A: I'm really excited to offer official photos for Star Wars Forces of Destiny. It's a really cute show and the animation style makes for very bright and colorful photos that look great printed.
We're going launch with official photos first and evaluate if we move forward with autographs down the line. There are some new actors from FOD that would make great first time-signers. If we secure anyone I will be sure to alert you.
Q: Since I love both cards and autographs, the limited edition set was music to my ears and I loved getting a super limited set for buying what I love anyway. Will we have more sets offered like this?
A: The first gift-with-purchase trading card set that we did, which featured 5 trading cards with images from A New Hope, was quite the hit. I've been asked by numerous fans if we have another one coming. We are working on a set for The Empire Strikes Back. Hopefully we can get that sorted in the next few weeks.
Q: You guys recently added the mega rare Harrison Ford, are you working on getting more classic signers for SWA?
A: Harrison Ford has some great signed merchandise on the site. You can see his collection here, which includes 8×10's and 11×14's and a variety of photos from the classic films and The Force Awakens. We're always looking to add new signers to the site, though we are largely keeping it focused on principal cast members at the moment. With the classic cast, we currently have Harrison Ford, Billy Dee Williams, and Ian McDiarmid. We are looking to add some additional classic signers in the future but we don't have anyone to announce right now.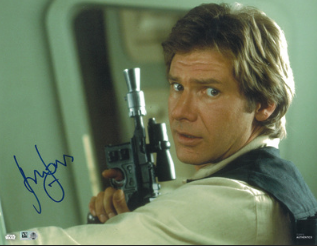 Q: Any special plans for NYCC coming up in a few weeks? Any signers at the booth?
A: New York Comic Con is going to be a blast. We'll be promoting all of our entertainment brands including Star Wars, The Walking Dead, Stranger Things, Garbage Pail Kids and Star Wars Authentics. There will be promo cards, giveaways, and exclusive product for sale. We can confirm that Star Wars actress and founder of HerUniverse, Ahsoka Tano herself, the one and only Ashley Eckstein will be at the Topps booth on Thursday October 4th signing autographs. Come visit us at Booth 454! More details will be coming soon. You can follow @Topps on twitter for the latest.
Q: Star Wars Resistance airs in just a few weeks, Any plans with that property for Topps or Star Wars Authentics?
A: I'm in full on countdown mode for the premiere of Resistance. I love Star Wars animation and Rebels is still my favorite part of the saga so I have high hopes for Resistance. From what I've seen so far, the animation is really cool – very bright and colorful and clean. The voice cast is tremendous and I'm excited to learn more about this particular time period in the saga. To celebrate the premiere, Star Wars Authentics will have a collection of official photos for sale on Monday October 8th, the day after the first episode airs.
We'll continue to add new photos each week if possible throughout the first season. And along with Resistance, we also just got access to Battlefront II so we will eventually have official photos from that property as well. Lots of new content being added throughout the next several weeks like Masterwork coming later in the year. As you know once we're ready to release any announcements I'll send it over to all the Yodasnews fans.
As always a HUGE thanks to Mark for taking the time to answer our questions! Be sure to follow the links in this article to check out all the cool stuff they have to offer!