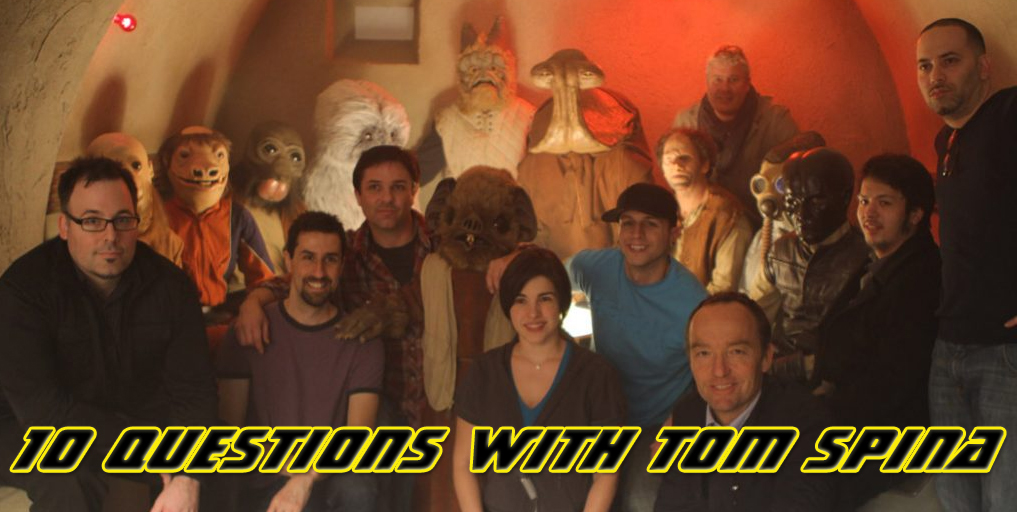 Tom Spina, from Tom Spina Designs and Regal Robot, was kind enough to sit down with us to discuss his work and his latest projects.
Mark: Tom Spina Designs has created some amazing costumes and restored props, how did all of this get started?
Tom: In a way, it's grown from my love for making and knack for fixing things. I was inspired by the films I watched as a kid (especially Star Wars and the cantina scene full of rubber monsters!) and I eventually learned how to sculpt and make masks and puppets and monsters. I got an internship with the Muppets and then worked in TV on the technical side of things for many years, but I always kept a hand in practical effects type work. As original prop collecting took off over the last 2 decades, that presented the opportunity to help people care for and display these pieces of film history, which was a great little niche that helped launch Tom Spina Designs.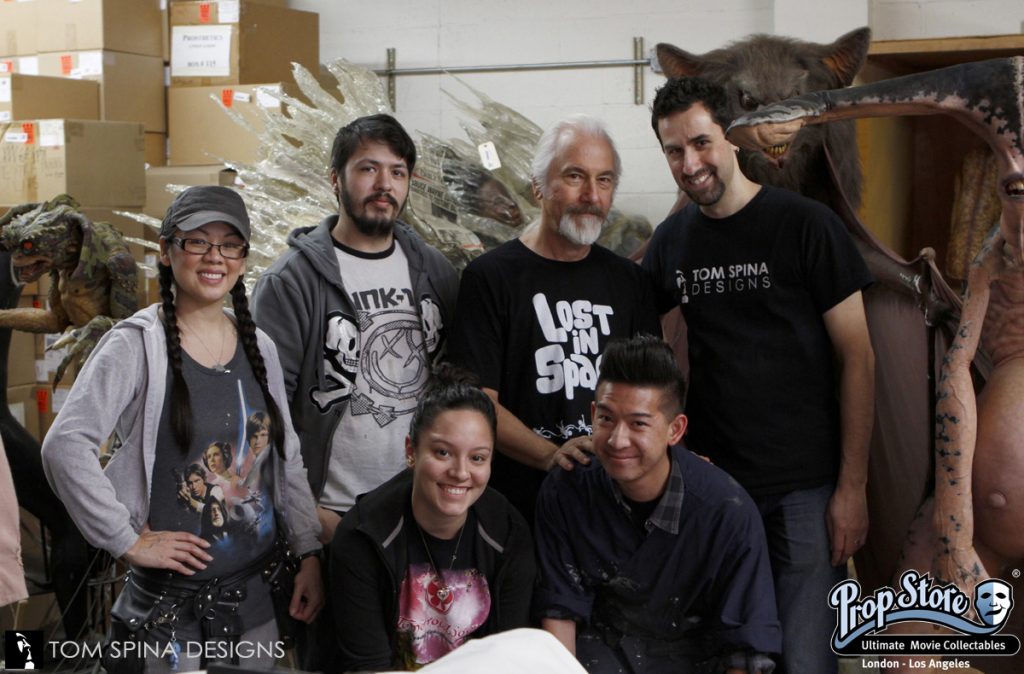 Mark: Who are your customers? Can anyone request work from you?
Tom: Anyone indeed! We try to be available to private clients as well as the big companies and offer people the style of work normally reserved for studios and museums. Of course, we've been very lucky to work with bigger companies too, creating for Lucasfilm, The Lucasfilm Archives (now the Lucas Museum of Narrative Art), Disney Imagineering, Universal, 20th Century Fox, and many museums and such as well.
Mark: While, we know you work with many properties, you do a lot of work with Star Wars, what is your favorite piece you worked on?
Tom: For Star Wars projects, it's a tie – the first Star Wars commercial we did, recreating cantina aliens for a Volkswagen Super Bowl commercial and restoring the original Muftak costume for my dear friends and movie historians Bob and Kathy Burns. Not many people out there can say they've shampooed a Talz but our little crew can. Ha!
My favorite non-Star Wars restoration came from helping Bob and Kathy out as well, when I restored the original wolf from An American Werewolf in London for them, a movie monster that's nearly as close to my heart as all these Star Wars aliens!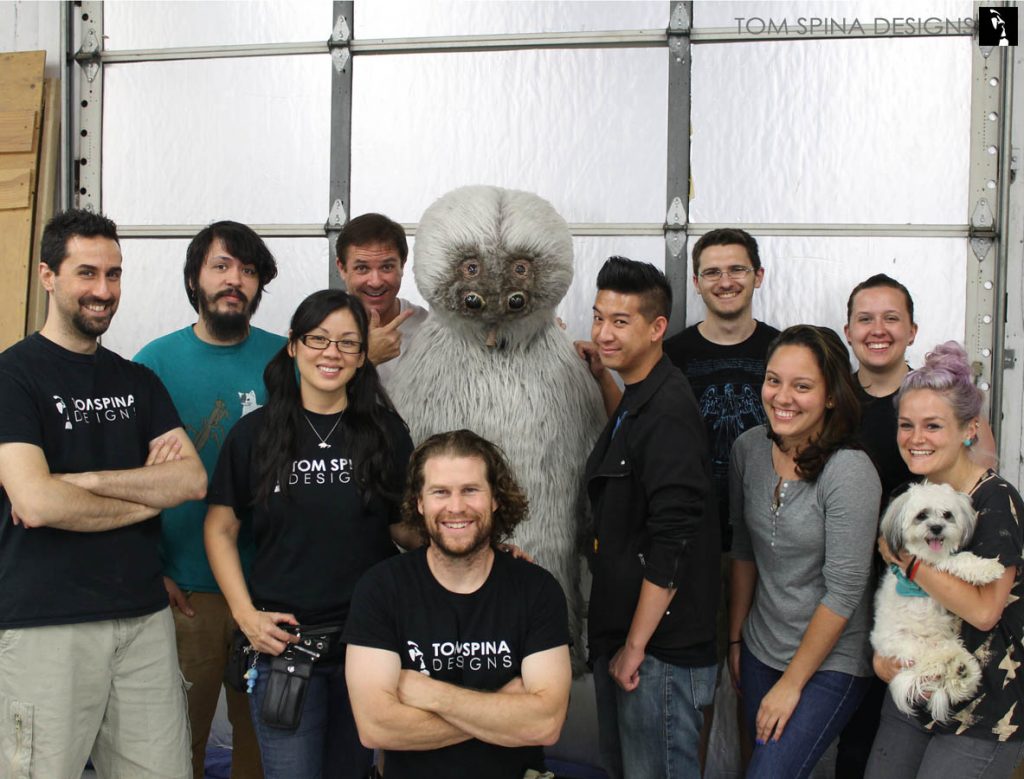 Mark: Recently, you launched a new venture, Regal Robot, what can we expect to see from Regal Robot?
Tom: We did! Regal Robot is live right now and folks can learn all about it at www.RegalRobot.com. Star Wars fans will notice that we've taken the idea of really highly themed pieces that we've been developing at TSD for so long (with things like the famous Han Solo in Carbonite Desk) and created this new company that's now partnered with Lucasfilm to offer a full line of really cool Star Wars themed furniture, art and decor. There's everything from smaller art pieces and directors chairs to really premium and over the top themed furniture. We're even offering custom work and that's something I'm very excited about.
Mark: So Regal Robot is able to create custom made official Star Wars pieces?
Tom:
Yes. Right now, all of our licensed products are made in the US and a lot are made to order and by our artists right in our studio. With that in mind, I thought, why not offer people the chance to get something really unique? So if someone has a very specific piece in mind, or commissions us to design something crazy just for them, and we can guide it through the Lucasfilm approval process, we can actually create that for them! People can learn more or request their own custom furniture or decor here.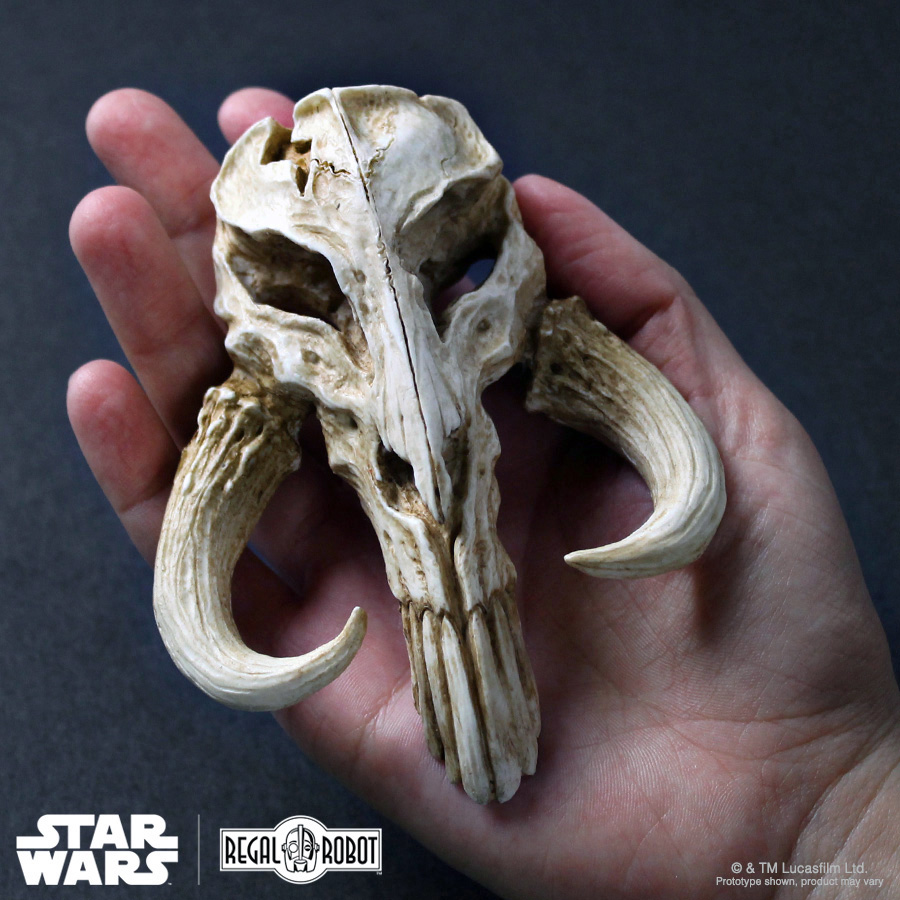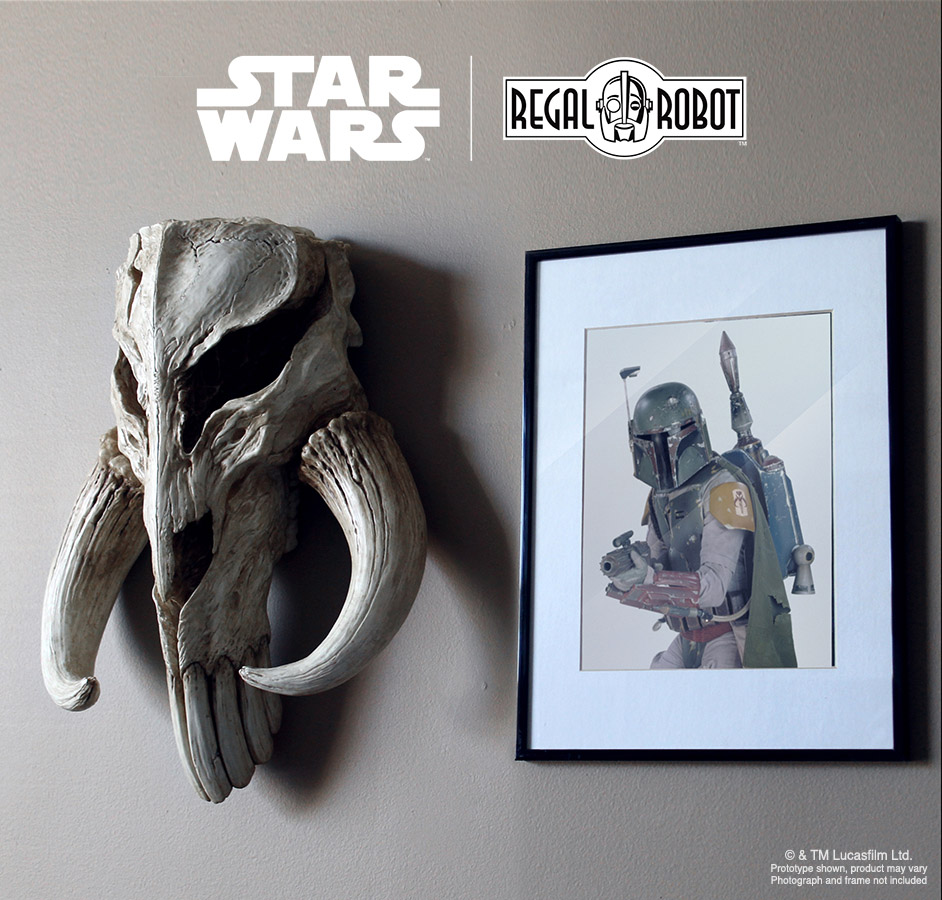 Mark: Now that you have Regal Robot, will we still see Tom Spina Designs work on Star Wars designs?
Tom: Absolutely. While Regal Robot will focus on the licensed items and even custom furniture and decor, Tom Spina Designs will continue to do restoration work on original props and create costumes or other custom sculpture and theming work for a number of official clients. We have a few things in the works right now though I'm afraid I can't talk about those just yet. But keep an eye on our social media accounts and we'll share when we can!
Mark: In the course of your work, have you had the opportunity to meet any Star Wars icons? And if so Who?
Tom: For me, the icons were always the folks behind the camera making all that cool stuff. Those people were rock stars to me. I've been so fortunate to meet quite a few of my heroes along the way, such as Stuart and Kay Freeborn, Nick Maley, Kirk Thatcher, Jon Berg, Phil Tippett, Doug Beswick, and of course, Rick Baker. All outstanding artists, with so much creative history (Star Wars and otherwise) among them! Truly amazing people and I'm honored to have gotten to meet so many of my idols and even talk shop and learn!
Mark: Speaking of icons, we have to ask you about the Adam Savage Chewbacca mask project.
Tom: That was amazing. Adam's someone I met online many years ago, we lost touch for a bit and it's just so great that we've gotten to connect for this project. He wanted a new, articulated and hyper-accurate Chewbacca mask for his costume for an "Adam Incognito" appearance and I'm so thrilled we could help. Plus, it gave us a chance to explore and obsess about one of Stuart Freeborn's most enduring and effective creations. A lot of work by a lot of people went into that and folks can check out the Chewbacca mask page on our site to see more.
Mark: What upcoming project are you most excited about? Is it Star Wars?
Tom: We've got some really cool new products in development for Regal Robot and that process is always exciting. It's always interesting to see people's reactions to what we're making. Watching hundreds of people come by at Star Wars Celebration and take photos with our Dewback Loveseat was absolutely awesome. It's so fun to do something like that which no one's really seen before.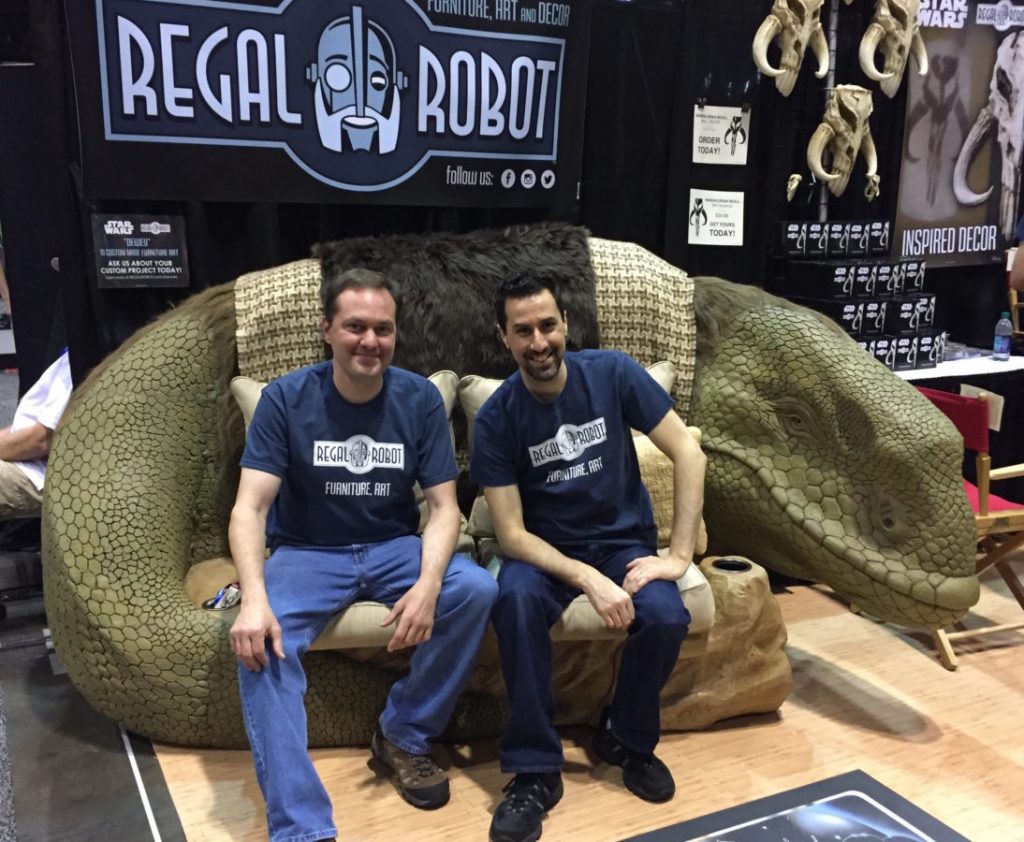 Mark: How big of a Star Wars fan are you and is your house filled with your own Star Wars designs?
Tom: I'm a huge Star Wars fan, but especially the MAKING of the original trilogy. That fascinates me to no end. My home's got quite a bit of Star Wars memorabilia as well as Disney park memorabilia, as I'm a bit of a geek for that as well! I've still got my old vintage Kenner Star Wars figures and most of those toys, and I do have a display of many of the Star Wars alien masks me and my crew have made, as well as a collection of original, screen used props from the cantina scene, which sort of takes things full circle for me. 🙂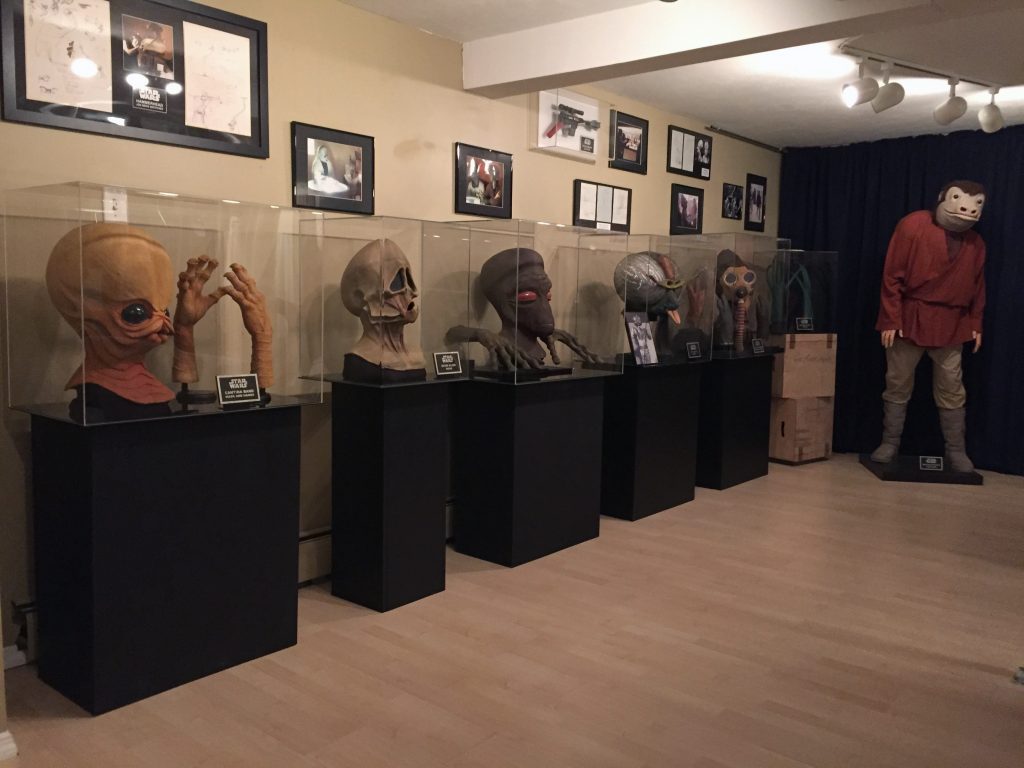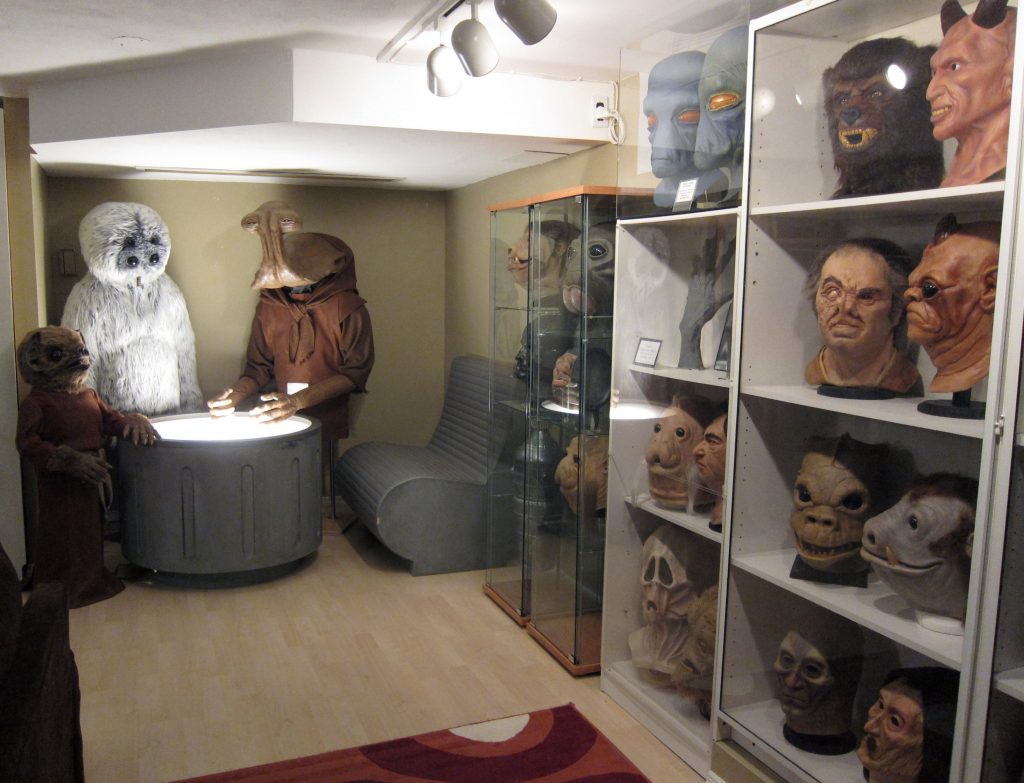 A huge thank you goes out to Tom for taking the time to chat with us!
Be sure to check out all of Tom's work: