The galaxy is at war, and with it the Jedi have to navigate new roles given to them. Balancing the line between peacekeepers and military officers, two Jedi especially are thrown into uncertainty… not only within, but also with each other. 
In his new book, released this Tuesday by Del Rey, author Mike Chen crafts a tale between newly minted Jedi Master Obi-Wan Kenobi and Jedi Knight Anakin Skywalker. Set in the immediate aftermath of Star Wars Episode Two: Attack of the Clones, Chen weaves characters and settings we all know and love with brand new elements, which causes tension between the once-inseparable cohorts and begins Anakin's journey that we know very well the ending of. 
This is STAR WARS: BROTHERHOOD. 
Now, those that know me know that the prequel trilogy holds a special place in my heart. My first day working at my local movie theater when I was in high school was the opening day of Star Wars Episode One: The Phantom Menace. Midnight showings of all of those movies are moments I will never forget. Now, while it's not the best "era" in Star Wars (that honor goes to the Original Trilogy), this time period tells of an important path taken by Anakin Skywalker as he transforms into Darth Vader. And with that, if there is anything that helps craft that transformation, I am all for it.  
In the book, while Anakin tries to balance his new role as Jedi Knight with his secretive marriage to Senator Padme Amidala, new Jedi Master Obi-Wan Kenobi must try to keep peace as he investigates a horrific tragedy on a Trade Federation planet. Was is at the hands of the Republic in retribution for the Battle of Genosis? Or is someone like Count Dooku trying to frame the Republic in order to advance his agenda? Hopefully cooler heads will prevail and the answer found without additional blood shed. 
A highlight for me was the author's inclusion of one of my favorite secondary characters from Episode Two… Dex Jettster, the diner owner that led Obi-Wan to Kamino via a saberdart. Well, he's back, and plays a pivotal role in helping Obi-Wan try and keep the peace on his mission. Dex is a unique character, and I can actually envision his voice and cadence while reading how Mike Chen crafted Dex's dialogue. Well done, Mike! 
Overall, I really enjoyed reading this expansion of the early days of the Clone Wars. It helped fill in some gaps that one might experience between the movies and TV series. I've already recommended it to friends and family, who are eagerly waiting to start reading it.  
STAR WARS: BROTHERHOOD, written by Mike Chen and published by Del Rey, releases today both in hardcover print ($28.99) and Ebook ($14.99) formats.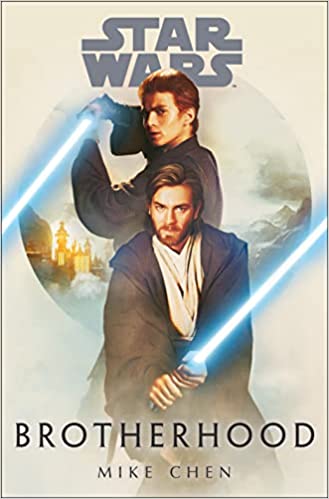 Thanks to Del Rey for sending us the review sample.