When THE EMPIRE STRIKES BACK was released in 1980, I was ready to go. I absorbed STAR WARS 3 years earlier and I spent the following 3 years obsessing over the action figures, comic books, cast appearances on The Mike Douglass Show (Google it) and the only real bit of the Expanded Universe available to a 5 ½ year old at the time – The Star Wars Holiday Special. When I heard from a friend of the family that Star Wars Part 2 was on the way, My little 7 year old head almost came unscrewed. I remember asking him if there were going to be lightsabers in part 2. He said "yes". I then asked if the trash monster from the Death Star garbage masher would be in it. I think I stumped him with that question, but it was a burning issue in my little mind. Now, remember, this was before the internet – where spoilers are easy to come by for the next blockbuster. He told me what he knew, which wasn't much. All he knew for certain was that it was being released in May.
I was charged up! My parents took me to see the original STAR WARS several times up to that point. They were the ones that got me hooked. They enabled me and helped to feed my Lucas branded addiction. Of course they would be there for me when the next part of this grandiose epic was released, right?
The events of the summer of 1980 infuriated the younger me and evolved into half hearted anger and good natured ribbing as the years went on for my brother and I. My baby brother, Brandon Crafts was waiting to make his debut to the world the same time that THE EMPIRE STRIKES BACK was being released – My brother was born on June 29th 1980 and TESB came out on May 21st, 1980. Having a brother was going to be cool, but all I wanted was to see THE EMPIRE STRIKES BACK. Unfortunately, my folks weren't having it. They had to be ready for Brandon's arrival and able to move at the drop of a hat if my mother was to go into labor. So, thanks to Brandon, I never got to see THE EMPIRE STRIKES BACK on its first theatrical run in the United States. My parents, and by proxy, my brother, Sith-blocked me and forced me to wait until the mid 80s, when I saw it via a rented VHS tape. Was there guilt on my parents part for not taking me to see it because of Brandon's birth? Oh, you bet. I remember seeing my brother for the first time in the hospital nursery – he was covered up in a blanket with a cartoonish football player on it. Shortly after that, my father took me down to a local department store so I could get my hands on Topps' THE EMPIRE STRIKES BACK Trading cards. That turned into the new Kenner toys for Christmas and Marvel's comic book adaptation later on, but never EMPIRE on the big screen.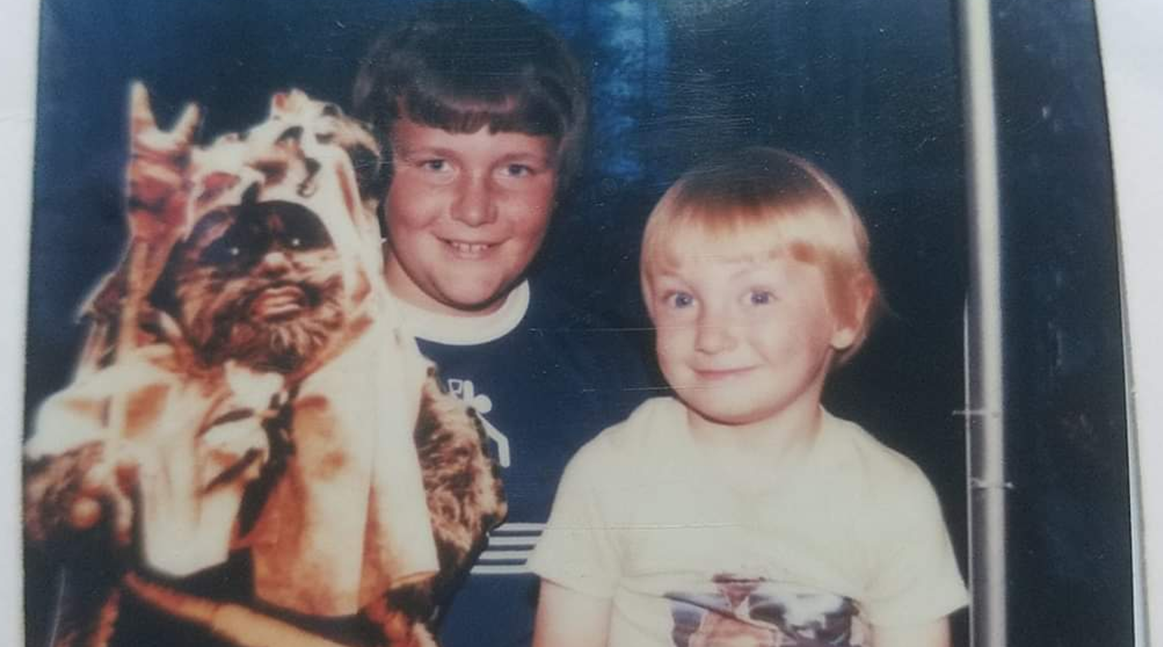 As Brandon grew up, I force fed him my love of STAR WARS. When RETURN OF THE JEDI came out and the traveling JEDI ADVENTURE CENTER came to our local mall, I had to go. My mother brought my brother and I to see it. We had our photo taken with a cardboard ewok and had a wonderful time. Later on in life, my brother inherited my Star Wars toys. I outgrew them and, foolishly, gave them to him to play with and destroy. As we both grew older, he tolerated my obsession, even going so far to pose with my collection as a goof. He understood my passion for Star Wars, even if he didn't really share it. Brandon got me the crown jewel of my collection several years ago at Christmas – a production drawing of R2-D2 that was turned into an animation cel for the Star Wars Holiday Special cartoon that introduced Boba Fett. My brother was born into STAR WARS. Although it was always in the forefront of my life, it provided him with a background that was nearly synonymous with his older brother.
My brother, Brandon Crafts, died last month at the age of 39 of a heart attack. One of the last conversations we had was about THE RISE OF SKYWALKER and how he thought it was pandering to a rabid fan base. "This is fan fiction," he told me as we were discussing the last entry in the STAR WARS SAGA. It was never his cup of tea, but he was a willing participant in my fandom. He would have been 40 today.
Before his death, whenever I watched THE EMPIRE STRIKES BACK I was reminded of how Brandon's impending arrival into the world absolutely stonewalled my chances to see it the first time. Now, it will forever remind me of, not only his birth, but also how quickly he left this life.
It's not just our hobbies or pastimes – it's who we share those things with. Thanks for putting up with my Star Wars craziness for almost 40 years brother. I will see you on the other side.