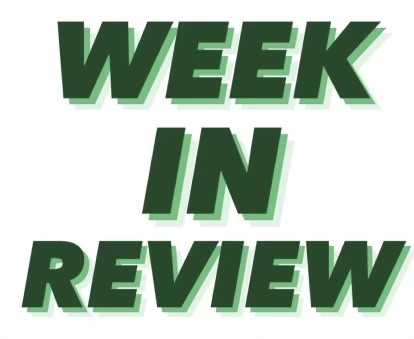 What's up everyone? I find myself saying "It's been awhile" again – life in the new normal just doesn't allow enough time to get everything done. I do have a new WEEK IN REVIEW for your reading pleasure. Please ignore the fact that it is late and in the middle of the week. Concessions must be made. I have also allowed myself to interject some personal opinions and commentary with this week's bounty. I just had a birthday this month and decided that I am too old to keep my thoughts bottled up like a snifter of Corellian brandy kept behind the bar at Chalmun's. So with that said, love it, hate it, or have the emotional indifference of Lobot – Here is your Week in Review
• It seems like LANDO CALRISSIAN's sexuality has been confirmed and cemented in Star Wars canon. From Starwars.com – "This Pride Month, gay and transgender artists will pay homage to some of the LGBTQ+ characters inhabiting a galaxy far, far away in a special line of variant comic book covers". Among those characters featured is Lando Calrissian – seemingly confirming what SOLO writer, Jonathan Kasdan claimed earlier – that Lando was pansexual. Predictably, some folks have a problem with this. It is odd how some people have no problem believing in walking carpets, planet destroying space stations, a little green wizard that sounds like Grover from Sesame Street, or the fact that teddy bears beat up the Empire – but they draw the line when a character's sexuality isn't what they assumed it was. Amazing how that works.
• JAXXON! Yes, everyone's favorite space bunny is now an action figure! Hasbro announced that the character is making his way to their 6 inch Black Series line in the not too distant future. Introduced way back in the beginnings of Marvel's Star Wars comic book series in 1977, Jaxxon was one of the first forays into the blossoming Expanded Universe, published 4 months before SPLINTER OF THE MIND'S EYE. This big green rabbit was my first glance as to what existed in this world outside of the movies and it is about time that he was immortalized in posable plastic. I must admit – I was taken aback by the number of "He looks like Bucky O'Hare" comments I have read online. Listen you neophytes, Jaxxon doesn't look like Bucky O'Hare…Bucky O'Hare looks like Jaxxon. Get it right.
• *Whew* Sorry about that. I get worked up over the silliest things. Kinda like Sebastian Stan as Luke Skywalker? WHAT?!? Stan told Good Morning America that "If Mark Hamil called me, personally, to tell me he feels inclined to share this role with me, then I will believe it," when asked what it would take for him to accept the role of Tatooine's favorite waterfarmer. The concept of Stan playing Luke, largely spearheaded by fandom's newfound push to make creators pay attention to their voices, has gained much traction as of late. Hey, stranger things have happened….
On a personal note, I just want to take a second and throw this into the court of public opinion. This probably isn't going to be a popular statement – concerning where we are collectively as fans of STAR WARS We are currently living in the second golden age of Star Wars. At the end of the first golden age, right around the mid 1980s, there wasn't much to keep fans excited. Sure, we had the ewok movies and some Saturday morning cartoons to keep the brand alive, but that only provided minimal staying power to a dying franchise. Fast forward 35 years and the world we live in has Star Wars content being churned out on a yearly basis. Movies, books, live action and animated shows and comic books are widely available and seemingly never ending.
The Star Wars franchise is now in a place that I never thought it would be in – a relevant movie franchise that is existing and prospering 44 years after it's debut. However, passions do run deep. So, if something is subpar, people should get upset. However, if one's fan theory does not come to fruition in the latest movie or show, or if people are lashing out at someone involved with the franchise because of a perceived slight against this thing we all hold so sacred, do me a solid favor – hold it together and stop making the rest of us look bad. I have enough reasons to have the public at large look at me with disdain – I don't need folks thinking I am a part of the whiny, but vocal, Star Wars fanbase as well.
That's it. I have said what I wanted to say. Questions? Comments? Want to call me a Disney stooge? You can do all of this and more at Traviscrafts@gmail.com. I would like to say that I will talk to you next week, but my batting average hasn't been too good as of late. So I guess I will say – Until Next Time.