It's been a great second week celebrating 15 years! Below is a summary of the winners in week 2, we still have a ton to give away and now that we are back from Toy Fair, we will be doing 1-2 giveaways a day starting tomorrow! If your name is below, and you have not claimed your prize, please do so!
YN 15 YEAR Giveaway #6 Winner! – Joel S. from Ocean City, NJ – Gentle Giant Obi Wan Kenobi (Exclusive) Mini Bust
YN 15 YEAR Giveaway #7 Winner – Danny T. from Philadelphia, PA – 12 Hasbro Action Figures! (Via Facebook)
YN 15 YEAR Giveaway #8 – Ellen G. from Bakersfield, CA – Hot Toys First Order Stormtroopers
YN 15 YEAR Giveaway #9 – Chad B. from Ferrum, VA – $25 Gift Card to Big Bad Toy Store (Via Facebook)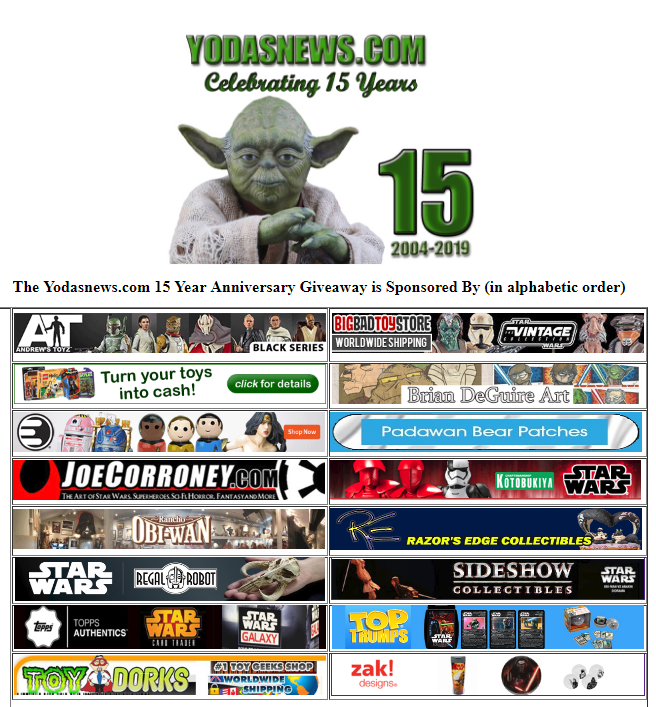 Keep checking and following us at all our social network sites 24/7 as we announce a lot of prizes at random there.
THANK YOU for letting us bring you the news to you for the last 15 years!
Read the terms and conditions of entering this giveaway at the bottom of this page <- Click to read!