YN 15 YEAR – Week 3 Round Up!
on
February 25, 2019
at
12:08 am
It's been a great third week celebrating 15 years! Below is a summary of the winners in week 3 and open giveaways right now, we still have a ton to give away so we will be extending the celebration to the first week of March as well, we will be doing 1-2 giveaways a day! If your name is below, and you have not claimed your prize, please do so!
YN 15 YEAR Giveaway #10 – Drew L. from Philadelphia, PA – Brian DeGuire Art Prize Pack
YN 15 YEAR Giveaway #11 Winner! – @nicole.ann1995 on Instagram – 2 Rose Black Series Figures
YN 15 YEAR Giveaway #12 – TBD (Enter Now) – Joe Corroney Art 3 pack
YN 15 YEAR Giveaway #13 – TBD (Enter Now) – Dengar ARTFX+ STATUE by Kotobukiya
YN 15 YEAR Giveaway #14 – TBD (Enter Now) – $25 Gift Card to Big Bad Toy Store (Via Facebook)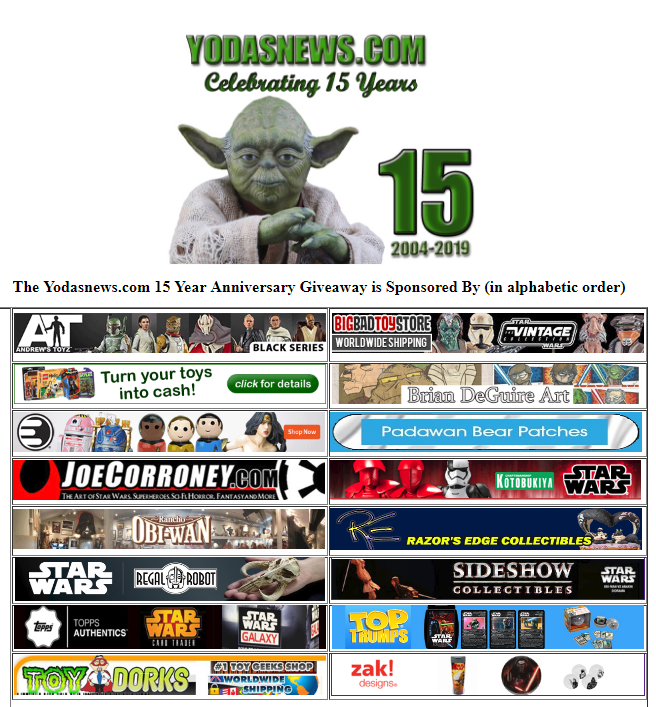 Keep checking and following us at all our social network sites 24/7 as we announce a lot of prizes at random there.
THANK YOU for letting us bring you the news to you for the last 15 years!
Read the terms and conditions of entering this giveaway at the bottom of this page <- Click to read!