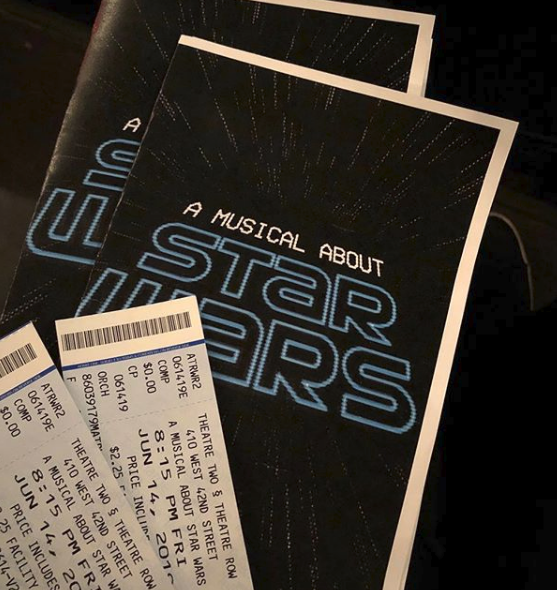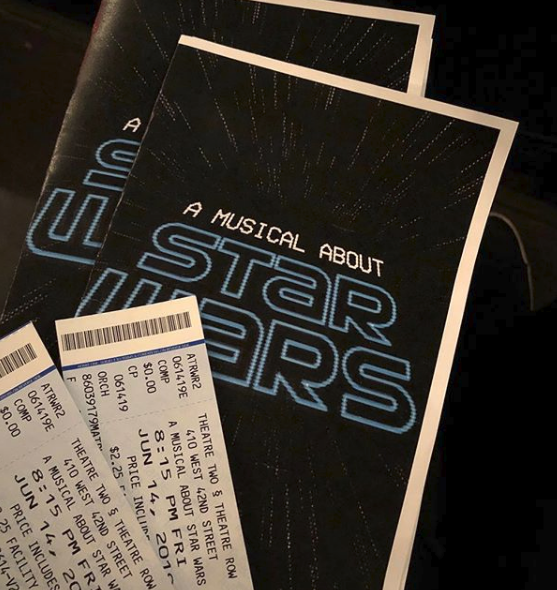 What if I told you that at 42nd street and 9th avenue there is a musical about Star Wars featuring everything from The Holiday Special thru Rey and BB-8? Would you believe it? I almost didn't! This weekend I had the pleasure of attending the off-broadway NYC show A Musical About Star Wars. Tickets were courtesy of the show's producers.
A Musical About Star Wars is nothing short of a joyride that will entertain and impress any fan of The Force! I will try to keep spoilers to a minimum, because the unexpectedness of it all is what makes it so fantastic. This 3-person show follows 2 passionate fans who try to convince an aspiring actress that Star Wars is the best thing in the galaxy. The musical adventure travels through many levels of Star Wars fandom with non-stop laughs for fans of any caliber.
While most of the show was expectedly and splendidly focused on the original trilogy, the prequel portion of the show was quite spectacular! A very thorough recap of the Anakin-focused trilogy was rapped to We Didn't Start the Fire. The Force was strong with the actors who seamlessly worked off each other rapping to the iconic Joel tune without missing a beat. I left the show with it stuck in my head!
The level of fandom behind the production showed its depth with many references to the various toy lines and even the Expanded Universe. Everything from the Kenner Early Bird Set to the countless LEGO sets were included. Going into the show I was expecting something kinda-Spaceballs, but found A Musical About Star Wars to be very fresh and have a comedic identity of its own. The original score, lyrics and laughs make it a must-see for any fan!
If you are in the New York area or find yourself traveling here, make sure you find the time to see A Musical About Star Wars! You will have a fantastic time and so will anyone accompanying you!