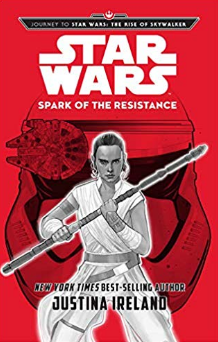 The Journey To Star Wars: The Rise Of Skywalker series has officially begun with the release of Star Wars: Spark Of Resistance, written by Justina Ireland. Similar to the previous "Journey To" series, this first novel is relatively short and written for a young audience.
The novel is set after The Last Jedi and likely concurrent with the recently released Galaxy's Edge books. Rey, Rose, and Poe are working together with the rest of the Resistance to regroup and rebuild. After completing a routine supply pick up, the heroes received a suspicious distress call from a distant planet. After weighing the risks, they decided to investigate anyway in the Millenium Falcon (which apparently belongs to Rey now…).
After travelling to Minfar, the heroes discovered the First Order oppressing the native population in search of an ancient weapon rumored to be on the planet. Rey, Rose, and Poe quickly earn the respect and trust of the native Zixon species and work together to beat the First Order to the weapon and drive them from the planet.
This novel is aptly categorized as a junior reader, written for a younger audience. The plot is simple and the dialogue is at times a bit too simplistic and juvenile to match the characters. But despite the story-telling, the story itself is enjoyable and exciting. Similar to Galaxy's Edge Black Spire, this novel adds a shimmer of hope to the very bleak and depressing ending of The Last Jedi.
This novel makes it clear the The Rise Of Skywalker will take place after some time has passed. I'm excited because we will get to see what Rey was able to do with the ancient Jedi texts. While this novel doesn't specifically mention the texts, it was clear that Rey is making significant progress in her ability to connect with and understand the living force.
Because this novel is such a quick read, making it a small commitment, I recommend it for all Star Wars fans. It's not earth-shattering or anything, but it is good (even if it's a bit juvenile). Pick it up, give it a read, and you will get more excited for December 20th!
Click Here or the image below to pick this up via hardcover or digital audio. We would like to thank Disney Lucasfilm Press/Penguin Random House Audio for providing the review sample.