Category Archives:
Kevin Hearne
Back on February 17th, I posted our first look at Heir to the Jedi, you can now pick up your own copy at Amazon for $20.52
Click Here to revisit our past review!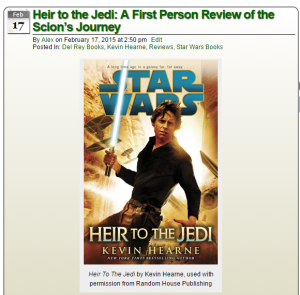 Because I write fiction, I don't write autobiography, and to me they are very different things. The first-person narrative is a very intimate thing, but you are not addressing other people as 'I' – you are inhabiting that 'I.'
-Kate Atkinson
 To date, only one other Star Wars novel (I, Jedi) has portrayed the galaxy far, far away in first person. First person narratives can be some of the trickiest to accomplish, as it requires the author to become a character on such an intimate level. They can also, if executed correctly, give the most rewarding experience to the reader. Kevin Hearne masterfully achieved this goal in Heir to the Jedi, providing the galaxy with the most insightful and profound chronicle  inside the head of Luke Skywalker to date.
Almost forty years has passed since we were first introduced to the farm boy destined for greatness. Over that time period, countless books and comics have attempted to capture a true representation of Luke Skywalker, to varying degrees of success. I for one, was somewhat cautious when I read the publisher's summary for Heir to the Jedi, as I felt it was something that had been covered ad nauseam.
In August 2012, Heir to the Jedi was announced at Star Wars Celebration VI. At the time, the novel was without a final title, and simply described as a first-person story about Luke Skywalker after the events of A New Hope. This was somewhat intriguing, as only one other Star Wars book has been written in first-person to date: I, Jedi. Shortly after the book's initial announcement, Jennifer Heddle (the Senior Editor of LucasBooks) stated on Twitter that Hearne had submitted an outline for the novel. She also boasted that the outline was very funny, a somewhat unique description for a Star Wars novel.