It has been a long and exciting 5 days! 2014 San Diego Comic Con has come to a close.  We have seen lots of  great products and collectibles that will be coming our way soon, we had the chance to interview Hasbro, take booth tours with Gentle Giant and Sideshow and got some amazing pictures.  Here are direct links to all our SDCC coverage from the last five days so you can catch up on anything you may have missed.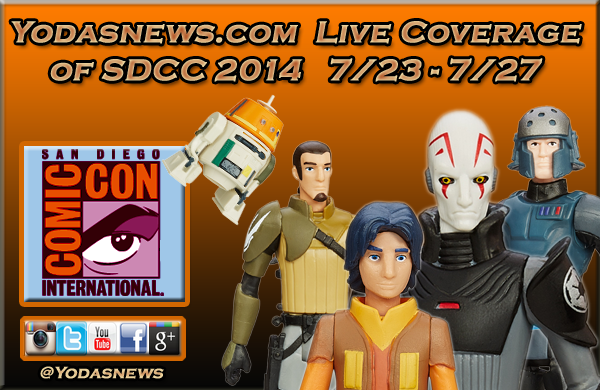 Random Floor Pics, Filoni and More
New Items announced from Gentle Giant LTD at SDCC
Images From the SDCC Hasbro Panel
Peavey Electronics Unveiling New Licensed Products at 
Gentle Giant LTD and 3DSystems Booth Video Tour
A Closer Look at the Life Size Hot Wheels Darth Vader Car 
Gentle Giant and 3DSystems  Booth Video 
Funko Luke Hoth & Wampa SDCC Set at Barnes & Noble
JAKKS Pacific 20″ Line Debuts at SDCC
Big Thanks to Shawn, Erika and Mark for the awesome work over the last 5 days and all our friends who helped spread the word about our news, images and videos! We appreciate it!