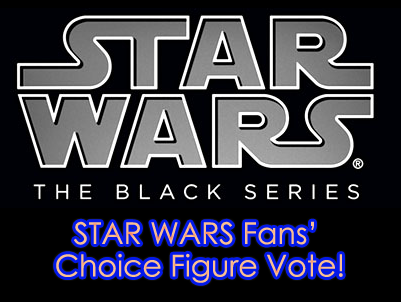 Hasbro has invited us and our readers to help determine its next STAR WARS Fans' Choice figure! And for the first time ever, the STAR WARS Fans' Choice poll will choose a 6-inch scale STAR WARS: THE BLACK SERIES figure!
Starting today, send in your nominees for the Fans' Choice poll to us via e-mail at  yodasnewsfanchoice@gmail.com. Our votes will help determine a character to be included in Hasbro's STAR WARS: THE BLACK SERIES 6-inch action figure line in the near future!
PLEASE NOTE: All STAR WARS characters are eligible for the poll, EXCEPT characters from STAR WARS: THE FORCE AWAKENS. Any characters from the STAR WARS REBELS or STAR WARS: THE CLONE WARS animated series would be sculpted in the realistic style of the STAR WARS: THE BLACK SERIES line.
Voting will end on June 29th 2015 at 10pm EST, so be sure to email us by then! Our top 6 list will then be sent off to Hasbro to be included with other participating fan sites! All polling result lists will be combined and weighed equally, with the #1 character on each list worth 6 points, the #2 character worth 5 points, the #3 worth 4 points, etc.
The resultant point values will be used to generate the final ballot of 6 choices, which will be launched at 9 am PST on July 2 on StarWars.com. The winning character will be announced at Hasbro's STAR WARS panel, July 10 at Comic-Con International in San Diego.
Thanks for taking part in this historic Fans' Choice poll for STAR WARS: THE BLACK SERIES!