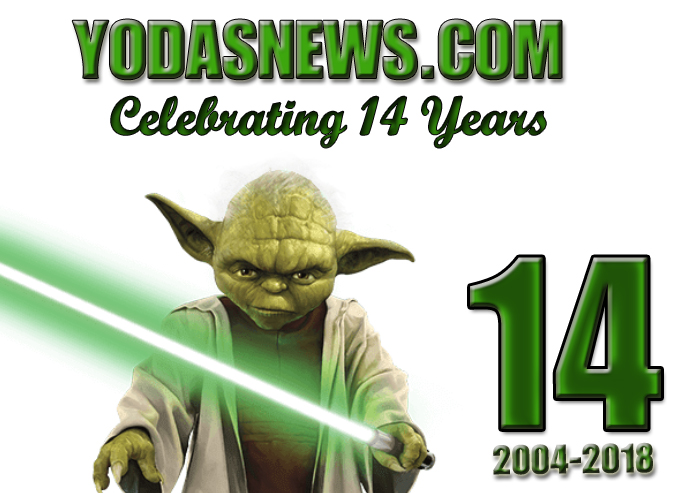 For the past 14 years, we have had the honor of bringing you daily news, product reviews and coverage of many conventions. We have enjoyed sharing our love of Star Wars with you. As our 14 year anniversary is upon us, we would like to thank both our staff and our readers. To our staff, we are grateful for the commitment, drive, and energy that you to bring to Yodasnews. Without your tireless dedication, none of this would be possible. To our readers, it is your dedication and loyalty that keeps alive this great franchise; it is a pleasure and an honor to share it with you.
During the month of February, we have amazing giveaways planned to thank you, our readers, for all your support over the last 14 years!
Also, as with previous anniversaries, we are giving away prizes for both our casual readers and those who follow us on social media. Keep your eye out for special events to test your creativity, fun and competitive trivia nights, and much more. Some of the items up for grabs include Gift Cards to your favorite online stores, statues, mini busts, action figures, and more! Over 125 prizes worth over $6,000!
It all starts today, stay tuned for how to enter the first giveaway around 8pm EST today! If you don't follow us on Social Media, now is the best time to do it as we will do random giveaways not posted here on Facebook, Twitter and Instagram! Links at the top right of the website, and on this page!
Some of the items up for grabs include:
Five $40 Gift Certificates to BBTS
John Boyega Topps Star Wars Authentic Autograph
Limited Edition Art Prints from Joe Corroney
Jawa Sixth Scale Figure by Sideshow Collectibles
Han Solo in Carbonite Sixth Scale Figure by Sideshow Collectibles
Yoda Sixth Scale Figure by Hot Toys via Sideshow Collectibles
Mandalorian Skull Mini Sculpture From Regal Robot
Kotobukiya OBI-WAN KENOBI A NEW HOPE ARTFX STATUE
Kotobukiya EMPEROR PALPATINE ARTFX+
Kotobukiya THE FORCE AWAKENS HAN SOLO & CHEWBACCA TWO PACK ARTFX+
Kotobukiya The Force Awakens – REY AND FINN ARTFX+
Kotobukiya POE DAMERON & BB‐8 TWO PACK ARTFX+
Kotobukiya DEATH TROOPER TWO PACK ARTFX+ STATUES
Kotobukiya FIRST ORDER STORMTROOPER FN‐2199
2017 Membership Kit to Rancho Obi-Wan which includes a T-Shirt
Gentle Giant Jyn Erso (Seal Commander) Mini Bust
Gentle Giant IG-88 Collector's Gallery Statue
Gentle Giant Bib Fortuna Mini Bust
Gentle Giant Luke X-Wing Pilot 40th Anniversary Classic Mini Bust (SDCC 2017 Exclusive)
Gentle Giant Darth Vader 40th Anniversary Classic Mini Bust (SDCC 2017 Exclusive)
Over 50 3 3/4 Action Figures From various lines (The Last Jedi, The Force Awakens, Black Series, Clone Wars, etc.)
Top Trumps Card Games
Topps Galactic Connexions HallMark Exclusive Trading Discs
Acme Archives Star Wars Clone Wars Asajj Ventress Character Keys (Razor's Edge Exclusive)
Disney Store Star Wars The Force Awakens Captain Phasma Statue
Funko Star Wars Boba Fett Premium Hikari Sofubi Figure
Gentle Giant Star Wars Biker Scout 12 Inch Jumbo Figure
Hasbro Star Wars Black Series Luke Skywalker Centerpiece Statue
Iron Studios Star Wars Han Solo in Stormtrooper Disguise Statue
Marvel 2015 Star Wars #1 Hasbro Toyfair Previews Exclusive Cover
Episode 1 Darth Maul Die Cast Watches (x2)
Kenner 1997 Cloud Car with Pilot
Kenner 1996 (POTF) Luke's T-16 Skyhopper
Kenner 1997 Action Collection Jawa
Kenner 1998 Action Collection Wicket The Ewok
Kenner 1998 Cantina Aliens (x3)
Hasbro 2007 30th Anniversary Obi-Wan Kenobi Jedi Starfighter Transformer
Hasbro 2002 Darth Maul Unleashed Figure w/ Stand
Hasbro 2002 12″ Gamorrean Guard
Hasbro 2003 ANH Imperial Dogfight Tie Fighter with Pilot
Star Wars The Black Series Astromech Droids 3 3/4-Inch Action Figures – Entertainment Earth Exclusive (x2)
Funko Pops
And much more!!!
You can see these, as well as, other prizes right here. Of course, none of this could be possible without the generosity and support of our Anniversary Sponsors, so be sure to check them out on our prize page and support them.