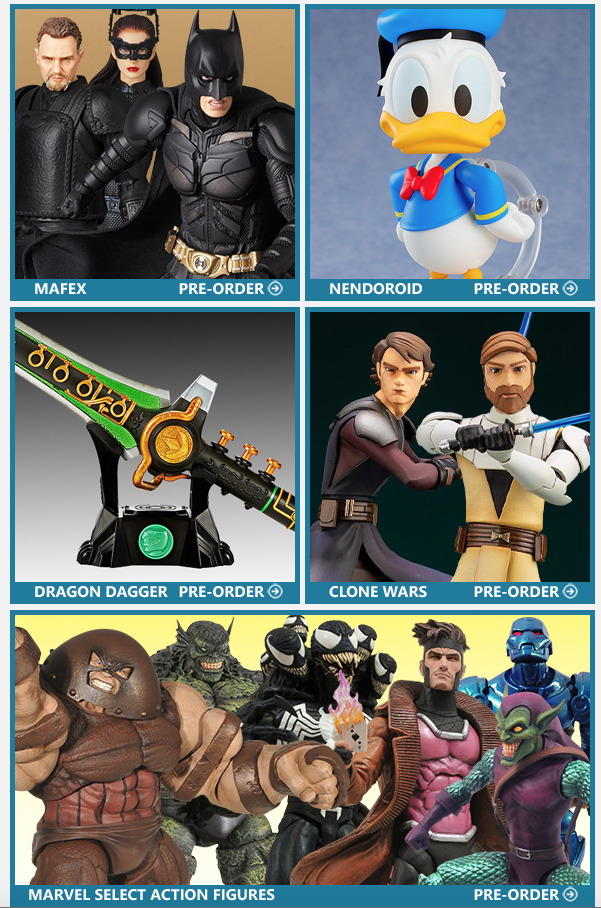 Joining the One:12 Collective, Destro, the weapons supplier to COBRA and leader of M.A.R.S. features his classic tactical outfit with tech enhancements, gauntlets with missile blasters, interchangeable thigh holsters, and combat boots. NECA is proud to introduce the 1/4 scale Donatello, based off his design in the 1987 classic cartoon! From 1979's Alien comes a figures of Arthur Dallas. Another My Little Pony inspired statue joins the Bishoujo line! This time featuring Princess Luna with beautiful, glittering hair that shines just like the night sky. Disney's Darkwing Duck is back once again in popular culture, with a new animated reboot from Disney. What are Plunderlings you ask? A little bit goblin, a little bit pirate, united with infectious charm. These greedy adorable pirates travel from island to island looking for treasure and mischief. After three years of development, Mondo is proud to officially unveil the first figure in the Marvel Mecha line: Spider-Man Mecha. Quint and the shark from the 1975 classic Jaws are joining the the adorably creepy Toony Terrors line!
Storm is excited to unveil a fan-favorite Kombatant from their incredible lineup of Mortal Kombat figures: Motaro! Motaro is a centaur-like creature with ram-like horns and a long metallic rat-like tail—called a Centaurian—and is a mighty enemy, as he has an absolute immunity to projectile attacks and even repels long range attacks back at his opponents. The 1,000th symbiote in a lineage that includes Carnage and Venom, Toxin is feared by many to be the strongest and most dangerous. Best of Muppets Series 1 features Kermit with Piggy, Gonzo with Fozzie, and Scooter with Rowlf. Jack is back! Jack Sparrow, the greatest pirate you ever heard of, is now a 7 inch action figure, based on his appearance in the original Pirates of the Caribbean movie. Eric Draven has returned, and the Crow lives again! This 7 inch scale deluxe action figure of the Crow is based on his trench coat-wearing appearance in the 1994 movie and features 16 points of articulation. From the Disney+ show The Mandalorian, the S.H.Figuarts Heavy Infantry Mandalorian figure is equipped with heavy beskar armor and a powerful blaster cannon.
Revoltech presents the Iron Spider, a figure inspired by the suit coveted and worn by several Marvel characters, first appearing in The Amazing Spider-Man and donned by Peter Parker! This Ramjet figure is inspired by his 1993 G2 toy release, featuring his special G2 black, purple and blue deco. The Scarlet Edge was a brutal and peerless Warrior from an ancient feudal society. He was master of combat in all forms, until his savage death in a war against an Army of the Undead. Enraged at his defeat, he returns to Earth to gain his revenge as Mandarin Spawn. This Mortal Kombat figure is based on Kung Lao's appearance in Mortal Kombat 2 and will include two swap out portraits, multiple interchangeable hands, a removable hat, a hat with a slash effect, a blood effect piece, and the Rabbit from his Friendship. From Aoshima comes a new collaboration combining Godzilla and Evangelion as they have never been seen before. One of the first in this new line of pre-painted, snap-together model kits is Mechagodzilla (Type-3 Kiryu EVA Unit-01 Color Ver.). From the hit series Pacific Rim: The Black comes a Robot Spirits figure of the main Mark-3 Jaeger, Atlas Destroyer! From the movie Dragon Ball Z: Cooler's Revenge, the final form of Frieza's brother, Cooler is brought to the S.H.Figuarts series.
Masters of the Universe: Origins Wave 1 has arrived along with He-Man and Skeletor! The iconic Pteranodon and Tiger Raptor join the 6-inch scale Amber Collection of figures featuring dinosaurs and characters seen in the Jurassic Park movies! Give your figures some firepower with these Firepower action figure accessories! These special edition WFC-GS17 Shattered Glass Ratchet and Optimus Prime figures are inspired by the Shattered Glass comics created in partnership with IDW which depict an alternate universe where the heroic Decepticons battle the evil Autobots. Kidrobot is excited to announce Itchy and Scratchy to their Kidrobot x Simpsons collection. Mythic Legions, by the award winning Four Horsemen Studios, is an expansive fantasy world of action figures that continues to grow with Dorina Onoris being inducted into the All-Star Series. The T-1000 is the third Ultimate from the 1991 Terminator 2 film, and the perfect companion piece to other Ultimate series figures.