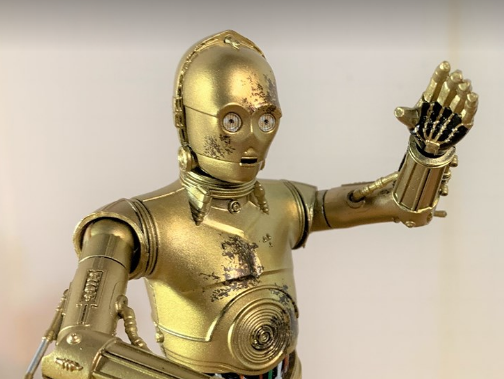 I was really skeptical about this figure to start with, because I remember Kenner's original figure back in the day didn't work. If I remember correctly the modern 3 3/4″ version didn't work either, so I was skeptical about this one. Well this one actually works!! The net is not very big but stretches easily and holds the torso, arms and legs just fine.
As you can see in the pics that Chewbacca holds him in the net just fine and stands perfectly. Now for the details: Chewbacca is great like the others released with plenty of articulation, so Chewbacca is not really new but is a great figure. This version of C-3PO is good. It looks a little weird with the arms and legs off with wiring showing, but once you put him in the net it looks great. Hasbro did good by giving instructions with this figure. Good idea.
The arms pop in pretty easy, the legs are a little harder to get in but once put together it's good. He has lots of articulation. The arms are really good and the legs are good but could be better. I really like the paint job on C-3PO, not too much but enough. It's pretty simple to handle and change around. Overall I love this set, and at $49.99 to me it is worth it.
The black figure stand DOES NOT come with this set. They can be purchased at this link and you can still get Chewbacca and C-3PO (w/ removable limbs) for $49.99 and free shipping at this link.
[ngg_images source="galleries" container_ids="256″ display_type="photocrati-nextgen_basic_thumbnails" override_thumbnail_settings="0″ thumbnail_width="120″ thumbnail_height="90″ thumbnail_crop="1″ images_per_page="34″ number_of_columns="0″ ajax_pagination="0″ show_all_in_lightbox="0″ use_imagebrowser_effect="0″ show_slideshow_link="0″ slideshow_link_text="[Show slideshow]" order_by="sortorder" order_direction="ASC" returns="included" maximum_entity_count="500″]