Wow. Did you hear that?
The internet gave a collective *GASP* after viewing the sizzle reel of THE RISE OF SKYWALKER from D23. Dark side Rey? Is this classic J.J. Abrams misdirection? A key plot point? We will have to wait a few more months before we find out…but there are other Star Wars news tidbits worth discussing.
You can go to Tosche Station to pick up your power converters, but you had best go to YODASNEWS.COM for all of your up to date, Star Wars information. Here is your week in review.
The Transportation Security Administration has reversed an earlier decision to ban soft drink containers that resemble thermal detonators from all flights. The containers are exclusive to Disney's Star Wars: Galaxy's Edge park. Fearing that they might be mistaken for actual explosives, the TSA at first claimed that "these items could reasonably be seen by some as replica hand grenades". Well, the TSA has changed their tune. The bottles that could change a Hutt's mind about a paycheck are now allowed on flights. Being called an "oversized liquid", these bottles can be put in checked baggage or emptied out to be brought on as a carry on item. Nothing like holding up your flight home because of your Star Wars Sprite.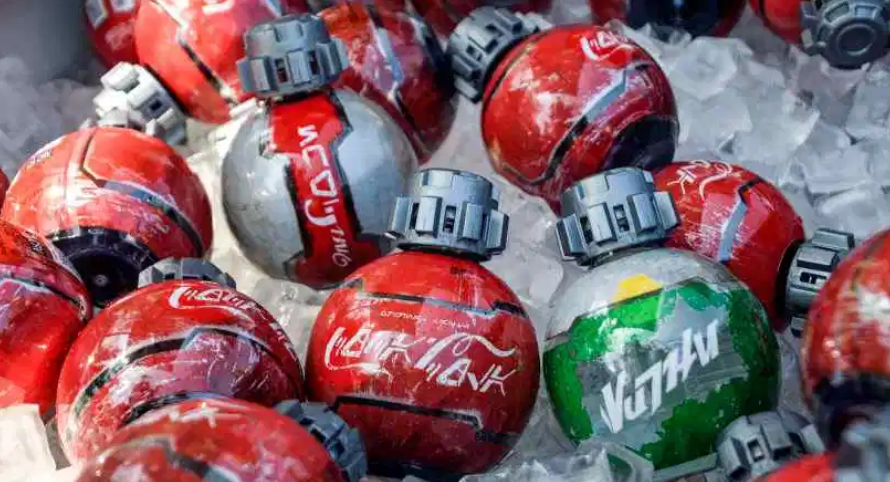 Star Wars: Galaxy's Edge is now open at Walt Disney World. It seems that the turnout has been fantastic with enthusiastic crowds who don't mind waiting the 3 hours to ride the Millennium Falcon. Here is hoping that Darth Dorian doesn't make landfall at the Black Spire Outpost and unleash the dark side of mother nature.
FUNKO is wrapping up their SMUGGLER'S BOUNTY subscription box program. As of this writing there are two more subscription boxes left before the whole program goes the way of Uncle Owen and Aunt Beru.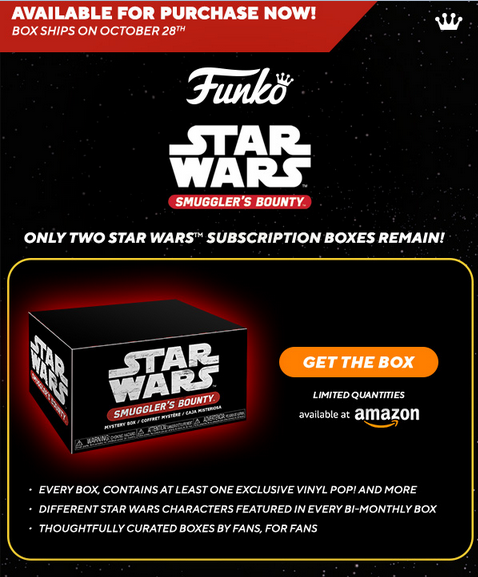 I'm not going to sugar coat this – there is a TON of spite and venom in the current state of Star Wars fandom. Being one of the folks who has been on this crazy ride since 1977, I can honestly say some of the attitudes displayed by folks who claim to love the movies is distressing. So, when I saw the video of the little girl who was dressed as Rey, watching the parade of Star Wars characters at Disneyland, waiting for her inspiration to march towards her – I have to say, it renewed my hopes for this shared passion that we all have. She brushed off Kylo Ren and she didn't acknowledge Phasma. She told Boba Fett, Darth Maul and several Stormtroopers to pound sand. When Rey and Chewie made their way towards her, the child wrapped arms around both of them. It may not be "News" but it is something we all need to hear. These are movies. Have fun. Take a deep breath and relax. Most importantly, when you see a chance to do something that puts a giant smile on your face – do it. This little girl has a better grasp on the concept of fandom than most.
That is it for this week. Questions? Comments? Hate mail? Traviscrafts@gmail.com. Until next week – be sure to hug your heroes like this little girl did.